DNP+ response to RCEP negotiations on Intellectual Property ongoing in Thailand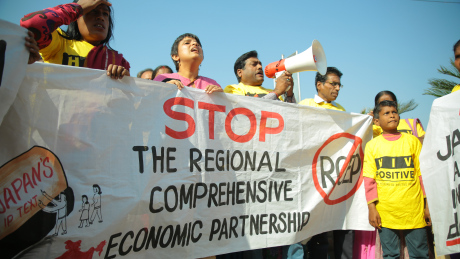 11 Feb 2015
DNP+ response to RCEP negotiations on Intellectual Property ongoing in Thailand
The seventh round of negotiations on the Regional Comprehensive Economic Partnership (RCEP) trade agreement have kick started in Thailand yesterday.
Started in May 2013, the RCEP is being negotiated between the 10 ASEAN (Association of Southeast Asian Nations) countries and Australia, China, India, Japan, New Zealand and South Korea.
The fourth meeting of the RCEP Working Group on Intellectual Property (WGIP) is on this week's agenda.
https://donttradeourlivesaway.wordpress.com
Leaked text uploaded on Knowledge Ecology International website can be read here: http://keionline.org/sites/default/files/RCEP_WGIP_JP_Revised_Draft_Text_3Oct2014.pdf
Japan, a close ally of the US in the Trans Pacific Partnership Agreement (TPP) negotiations is pushing for "IP provisions" that undermine and delay access to affordable generic medicines. Harmful IP provisions tabled by Japan include dilution of patentability criteria, data exclusivity, patent term extension and IP enforcement measures that target legitimate generic medicines. These provisions, if accepted would serve to extend monopoly protection beyond what is required by international trade rules and to create new kinds of monopolies, even after patent-based monopolies have expired or where they never existed. The IP Enforcement provisions would open the door to abusive practices from multinational pharmaceutical corporations, by allowing medicines to be delayed, seized, detained and destroyed.
This is especially a matter of concern because the RCEP agreement includes India. India, with a robust generics pharmaceutical industry is a key supplier of low cost medicines medicines, including over 80 per cent of all HIV medicines used in developing countries, is known as the 'pharmacy of the developing world'.
DNP+ response to RCEP negotiations on Intellectual Property ongoing in Thailand
"We are extremely worried; people living with HIV across the world are benefiting from low cost, quality medicines supplied by generic companies in India. Japan is attacking this lifeline by pushing for harmful IP provisions in FTA negotiations with India. We call on the Indian government to stand firm against inclusion of such provisions in the any trade agreement that could shut down India as the 'pharmacy of the developing world'."
Vikas Ahuja, President, the Delhi Network of Positive People (DNP+)
---