Doctors warn TPPA takes away our climate protection tools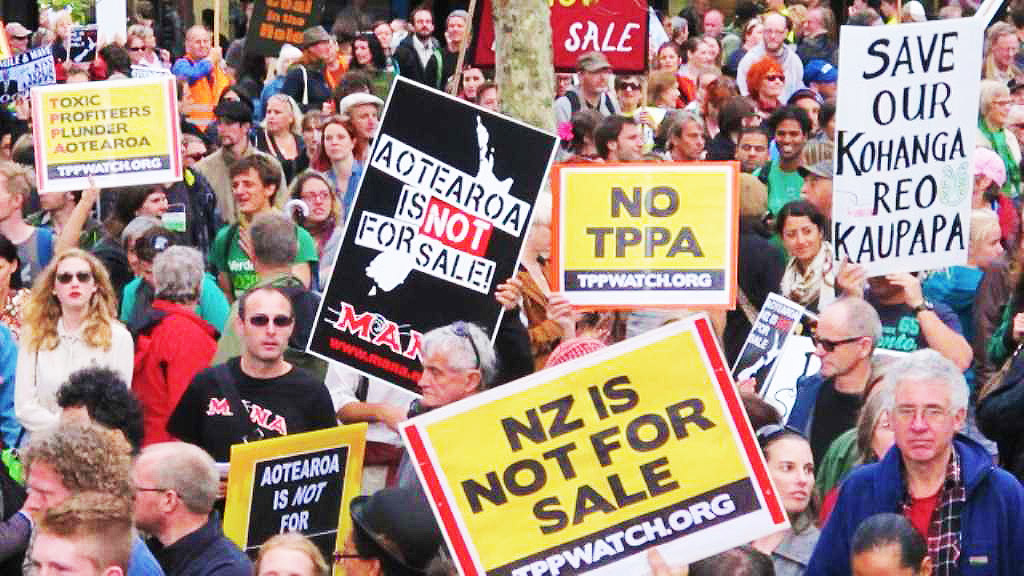 Voxy | 12 May 2014
Doctors warn TPPA takes away our climate protection tools
OraTaiao: The New Zealand Climate and Health Council warns that negotiations over the Trans-Pacific Partnership Agreement (TPPA) threaten New Zealand's ability to protect our climate and health.
The Council's concerns mirror today's publication of an open letter to the Prime Minister from health organisations and over 270 health professionals, warning how the TPPA will harm the health of New Zealanders.
The biggest threat is the 'Investor State Dispute Settlement' (ISDS) provisions. This mechanism allows overseas companies, including fossil fuel companies, to sue our Government if any local law changes might substantially affect their value or profits.
'Now more than ever' says the Council's Co-convenor Dr Rhys Jones, 'we need laws made in the best interests of New Zealanders and our future security'.
Overseas, governments are being sued for millions of dollars. Germany, for example, currently faces two investment disputes brought by Swedish firm Vattenfall. After the Stern report on climate change, Germany took measures to reduce the damaging effects of carbon dioxide emissions from a coal-fired power plant owned by Vattenfall, and this is being challenged. Then Germany closed a nuclear power plant following the Fukushima disaster, and this too is being challenged. These challenges do not claim that the power plants are safe, but that investors are losing out.
Several leaks of the TPPA environment chapter, which were posted on Wikileaks in January and again in February this year, show that it will do nothing to protect our right to introduce new measures to address climate change. In the light of these leaks and the challenges to countries protecting their health and environment, Dr Jones says that the 'trust us' approach of the New Zealand negotiation team on the TPPA is not good enough when it comes to protecting climate and health.
Dr Jones says 'The world's expert climate scientists have told us that we need to rapidly move towards a low or zero emissions economy if we want to avoid overheating the planet before 2050'.
'Adapting to climate changes already on the way will be challenging enough, but there is no way we will be able to adapt if we continue with business-as-usual' says Dr Jones. 'For a just transition to a low emissions economy, we need to put the interests of New Zealand employees and entrepreneurs first - not overseas companies' profits.'
The next round of TPPA negotiations is happening in Vietnam right now. 'The irony' says Dr Jones 'is the Government's urgency to protect overseas profits with the TPPA, instead of international climate cooperation'.
'The TPPA is not healthy for us, our climate or our sovereignty' ends Dr Jones. 'New Zealanders need to be free to protect our climate, our country and our future'.
---