Egypt to appeal $1.76 bln award to Israel in gas dispute, freeze gas import talks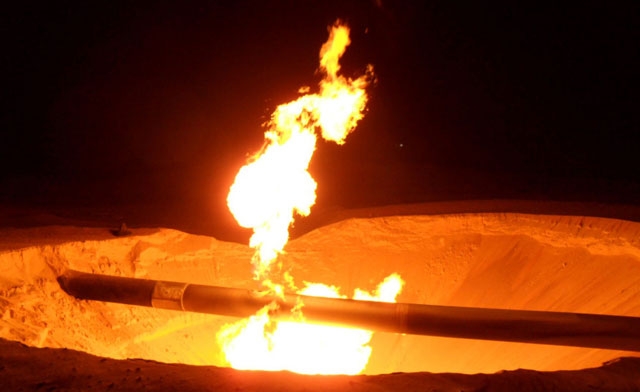 Reuters | 6 December 2015
Egypt to appeal $1.76 bln award to Israel in gas dispute, freeze gas import talks
Egypt said on Sunday it would appeal an order by international arbitrators to pay $1.76 billion in compensation to state-owned Israel Electric Corp for halting gas supplies three years ago, and freeze gas import talks until the dispute was resolved.
Egypt had been selling natural gas to Israel under a 20-year agreement, but the deal collapsed in 2012 following months of attacks on the pipeline by militant groups in Egypt's Sinai Peninsula, which borders Israel and the Gaza Strip.
Israel Electric (IEC) was forced to turn to more expensive fuels to generate electricity.
The company took the issue to arbitrators at the International Chamber of Commerce, demanding $4 billion from the suppliers, Egyptian Natural Gas Holding Company (EGAS) and the Egyptian General Petroleum Corporation (EGPC), and the firm operating the pipeline, Eastern Mediterranean Gas (EMG).
IEC said on Sunday that arbitrators had ordered EGPC and EGAS to pay compensation of $1.76 billion plus interest and legal expenses.
"Israel Electric will act toward the implementation of the arbitration ruling through dialogue with the gas companies," it said.
EGPC and EGAS said in a statement that the arbitrator had also ordered them to pay $288 million to EMG and that they would appeal both awards.
They said the compensation awarded to EMG amounted to about 19 percent of the $1.5 billion it had sued for, while the award to Israel Electric amounted to under 40 percent of the total it was seeking.
Egyptian Prime Minister Sherif Ismail said on Sunday an appeal would be filed within six weeks.
The companies said they had "received instructions from the Egyptian government to freeze negotiations between companies to import gas from Israeli fields or to award import approvals until the legal position regarding the arbitration ruling and the results of the appeal are clear".
The ruling looks likely to sour recent talks by private companies to import Israeli gas via the existing subsea pipeline. On Nov. 25, developers of Israel's Leviathan offshore gas field announced a preliminary deal to pump natural gas to Egypt for up to 15 years.
Plans call for Leviathan, which is expected to begin production in 2019 or 2020, to supply Egypt's Dolphinus Holdings with up to 4 billion cubic metres (bcm) of gas a year for 10 to 15 years.
Dolphinus is a company that represents non-governmental, industrial and commercial consumers in Egypt.
The gas would pass through an underwater pipeline built nearly a decade ago by EMG.
Egypt has said it still wants to import Israeli gas despite Italy's ENI discovering the large Zohr gas field off Egypt's coast in August.
This year Dolphinus also agreed a seven-year deal to buy at least $1.2 billion of gas from Israel's Tamar field, near Leviathan.
---