English version of trade pact with China to be posted online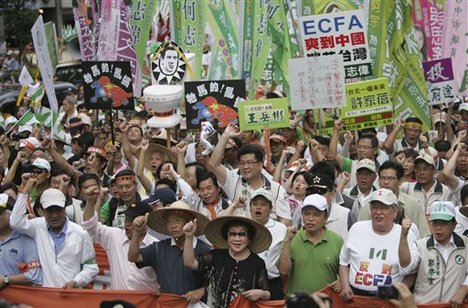 Focus Taiwan News Channel
English version of trade pact with China to be posted online
16 August 2010
By Lin Shu-yuan and Maubo Chang
Taipei, Aug. 16 (CNA) The Ministry of Economic Affairs decided Monday to make a virtue of necessity by granting a request by the opposition Democratic Progressive Party (DPP) to make public the English version of Taiwan's economic cooperation framework agreement (ECFA) with China.
An anonymous economic official said the Ministry of Economic Affairs must translate the pact into English to inform the World Trade Organization (WTO) of its agreement with China as is required by the WTO of its members.
The ministry made the decision on the eve of a legislative special session called to ratify the pact inked by Taiwan and China June 29.
The English translation will be done by the Ministry of Economic Affairs, which will have thorough discussions with related ministries about the meaning of the pact, and will notify China of its final English version to ensure that there are no differences between each other's English versions presented to the WTO, the official said.
Only after the English version has been confirmed by the Chinese authorities will it be posted on the ministry's website.
However, the official said the English version is only for the purpose of informing the WTO and that any differences between it and the Chinse version will be resolved according to the Chinese version.
The DPP lawmakers, who oppose the pact on the grounds that Taiwan's closer economic ties with China will undermine its political independence, had demanded that the Executive Yuan present an English translation of the pact that can be debated in the legislature.
According to the DPP, the Chinese version of the pact "might have hidden snags" that could be exposed only in the English version to be given to the WTO.
As the ruling Kuomintang, which controls two-thirds of the legislative seats, is determined to bulldoze the pact through the legislature in a special session set to begin the following day, a free-for-all, which is typical method of filibustering used in the legislature, is anticipated.
---