Facing Russian threat, Ukraine halts plans for deals with EU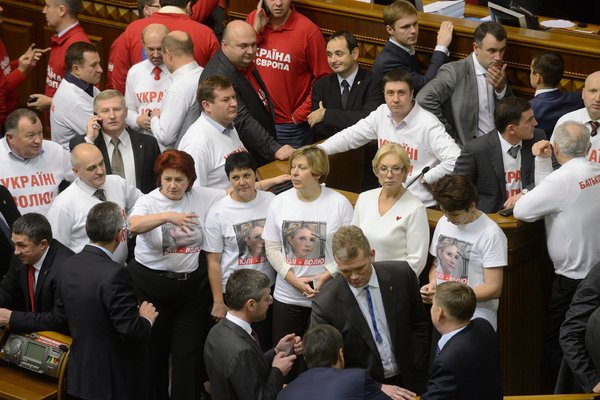 November 21, 2013
Facing Russian threat, Ukraine halts plans for deals with EU
By DAVID M. HERSZENHORN
MOSCOW — Under threat of crippling trade sanctions by Russia, Ukraine announced Thursday that it had suspended its plans to sign far-reaching political and trade agreements with the European Union and said it would instead pursue new partnerships with a competing trade bloc of former Soviet states.
The decision largely scuttles what had been the European Union's most important foreign policy initiative: an ambitious effort to draw in former Soviet republics and lock them on a trajectory of changes based on Western political and economic sensibilities. The project, called the Eastern Partnership program, began more than four years ago.
Ukraine's decision not to sign the agreements at a major conference next week in Vilnius, Lithuania, is a victory for President Vladimir V. Putin of Russia. He had maneuvered forcefully to derail the plans, which he regarded as a serious threat, an economic version of the West's effort to build military power by expanding NATO eastward. In September, similar pressure by Russia forced Armenia to abandon its talks with the Europeans.
European leaders reacted with fury and regret, directed at Kiev and Moscow. "This is a disappointment not just for the E.U. but, we believe, for the people of Ukraine," Catherine Ashton, the European Union's foreign policy chief, said in a statement. Calling the pact that Ukraine was walking away from "the most ambitious agreement the E.U. has ever offered to a partner country," Ms. Ashton suggested the country would suffer financially.
"It would have provided a unique opportunity to reverse the recent discouraging trend of decreasing foreign investment," she said, "and would have given momentum" to negotiations for more financial aid from the International Monetary Fund. Ukraine faces a growing economic crisis, and it is widely expected to need a major aid package soon.
Others were more pointed in blaming Russia. "Ukraine government suddenly bows deeply to the Kremlin," the Swedish foreign minister, Carl Bildt, wrote on Twitter. "Politics of brutal pressure evidently works."
In Brussels, Stefan Fule, the European Commission's senior official responsible for relations with neighboring countries, canceled a trip to Ukraine that he had announced just hours earlier, suggesting that officials saw little hope in reversing the decision. "Hard to overlook in reasoning for today's decision impact of #Russia's recent unjustified economic & trade measures," he wrote on Twitter.
Ukraine's announcement came in the form of a decree issued by the cabinet of ministers ordering the government "to suspend" preparations for concluding the agreements with Europe and instead begin planning for new negotiations with the European Union and Russia.
At virtually the same time, President Viktor F. Yanukovich, who was on a visit to Vienna, issued a statement saying, "Ukraine has been and will continue to pursue the path to European integration."
In a move emblematic of Ukraine's often inscrutable politics, Mr. Yanukovich barely acknowledged the developments in Kiev and, responding to a reporter's question about the pacts with Europe, said, "Of course, there are difficulties on the path."
Because Mr. Yanukovich was supposed to sign the accords in Vilnius, some officials seemed to hold out the faint possibility he might find a way to resurrect the agreements. Those hopes seemed to fade Thursday night as the reactions in Europe grew angrier, and Russia said it would gladly join in negotiations if the accords were postponed.
The decree by the cabinet of ministers followed the Ukrainian Parliament's overwhelming rejection of legislation that would have freed the country's jailed former prime minister, Yulia V. Tymoshenko, and allowed her to seek treatment in Germany for back problems. Ms. Tymoshenko is a bitter political rival of Mr. Yanukovich's.
The West has long criticized the conviction of Ms. Tymoshenko on abuse of authority charges and her seven-year prison sentence, saying they were a politically motivated effort to sideline her. Her release was widely viewed as a condition of signing the agreements, although the European Union never officially declared it to be a requirement.
The Parliament, which is controlled by Mr. Yanukovich's Party of Regions, defeated six different bills related to the treatment of prisoners that were intended to address Ms. Tymoshenko's case.
Opposition leaders in Parliament, including members of Ms. Tymoshenko's Fatherland party and leaders of the nationalist Svoboda party, accused Mr. Yanukovich of torpedoing Ukraine's chances for integration with Western Europe.
"President Yanukovich is personally stopping Ukraine's movement to Europe," said Arseniy P. Yatsenyuk, a former minister of economy and foreign minister, who is the leader of the Fatherland party in Parliament.
Moldova, the poorest country in Europe, is expected to move forward with the agreements in Vilnius even though Russia has banned imports of Moldovan wine, one of the country's most important exports, and has threatened other repercussions including an immigration crackdown on more than 100,000 Moldovans working in Russia.
Georgia, which fought a brief war with Russia in 2008 and remains in conflict with Russia over the territories of Abkhazia and South Ossetia, is also planning to move forward with the accords. At his inauguration on Sunday, the country's new president, Giorgi Margvelashvili, said Georgia hoped to join the European Union and NATO.
Ukraine's domestic politics are deeply entwined with the country's relationship with Russia, and Mr. Yanukovich is widely viewed as calculating the implications of his decisions for his plans to seek re-election in 2015.
Mr. Yanukovich's political base is in the largely Russian-speaking southern and eastern sections of the country, which generally favor closer relations with Russia. Younger voters, and those in the central and western sections of the country, are more likely to favor integration with Europe; he would need their support to win a second term.
At the same time, Ukraine is facing severe economic problems and will probably need a large infusion of credit. Those problems were certain to worsen if Russia followed through with threats of wide-ranging trade sanctions as retaliation for signing the deals with Europe.
It was unclear if the Kremlin had given Mr. Yanukovich any assurances of financial assistance. It seemed probable that Ukraine would face difficulties obtaining additional help from the International Monetary Fund after backing out of the agreements with Europe.
On Thursday, several hundred protesters gathered in Independence Square in Kiev. Carrying European flags, they chanted, "Ukraine is Europe!"
Linas Linkevicius, the foreign minister of Lithuania, which currently holds the European Union's rotating presidency, said that if Ukraine passed up the chance of signing a deal at the conference next week in Vilnius, it would have very little chance of doing so in the future. "The probability is likely close to zero," he said.
Andrew Higgins contributed reporting from Brussels, and Alison Smale from Berlin.
---