Farmers' fight of China FTA could be biggest yet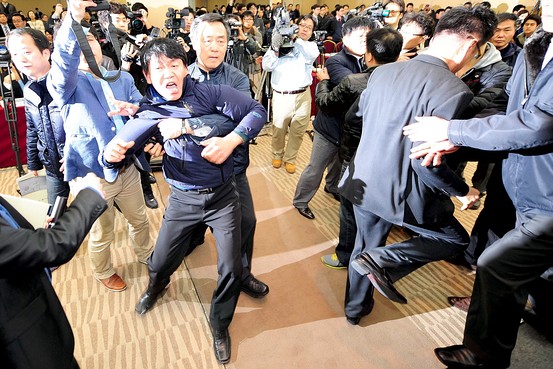 Wall Street Journal | February 27, 2012
Farmers' fight of China FTA could be biggest yet
By Evan Ramstad
When South Korea started to negotiate a free trade agreement with the United States in 2006, South Korean farmers protested outside the negotiating sites and staged big rallies in downtown Seoul.
With the country aiming to start talks this summer on a similar pact with China, the farmers are getting an even quicker start on protests.
How quick? When the Ministry of Foreign Affairs and Trade attempted to hold the first public hearing last Friday to listen to concerns about an FTA with China, farmers shut it down.
They pulled people out of their chairs, threw things at the podium and got into fisticuffs with ministry officials and police.
By taking a strong stance at such an early juncture, farm groups may be able to achieve what they did in the FTAs that South Korea created with the U.S. and E.U. – keeping rice out of the deal or, in other words, the maintenance of trade barriers on rice, which is considered the nation's staple crop.
But farmers in South Korea have far more to worry about in FTAs with China than the U.S. and E.U. China is both closer to South Korea, meaning transportation costs will be less deterrence to competition, and overlaps with Korea in more crop production.
The Korea Institute for International Economic Policy estimates that Korean farm production would fall about 15% within a decade after an FTA with China takes effect.
South Korea's agriculture sector is already terribly uncompetitive. Approximately 3% of the nation's GDP goes to subsidize farmers (arguably the country's biggest welfare program) who live and work on small plots of land and are almost wholly disconnected from world markets. Rather than taking signals from global commodity prices, South Korean farmers stick to their traditional ways. Almost no one wants to enter the business.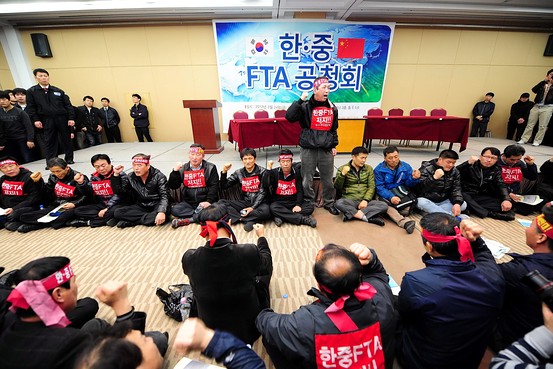 Perhaps an FTA with China would be the tool to finally modernize the nation's farm sector. If Friday's meeting is any indication, farmers aren't going to make it easy for that to happen.
But in an email interview, the chief policymaker of the Democratic United Party, now the main opposition party but with a chance for becoming the ruling party in the April 11 parliamentary election, said that the party favors creating FTAs with China and Japan, though it is threatening to cancel the recently-ratified FTA with the U.S.
"Our basic position is to do a good FTA that helps our national interest," said Lee Yong-sup, the policymaker. "A FTA with Japan and China should be considered seriously by the next government."
---