Ford slams South Korea trade deal as Obama officials renew talks in Seoul
The Hill | 4 November 2010
Ford slams South Korea trade deal as Obama officials renew talks in Seoul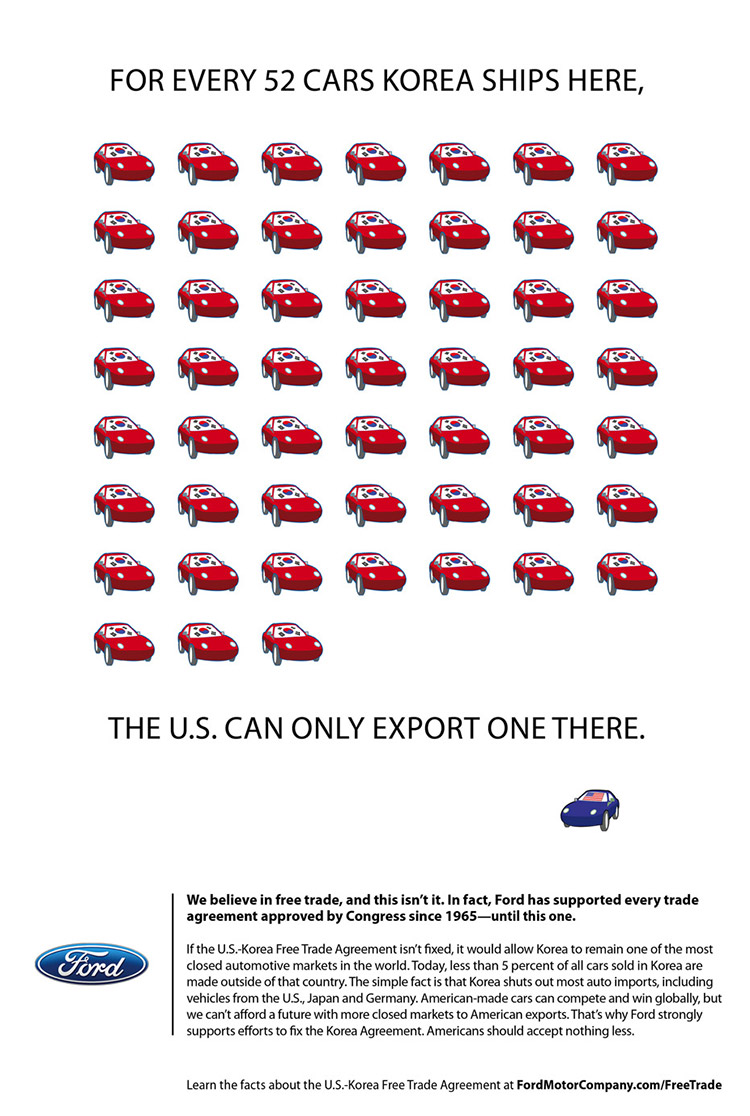 By Ian Swanson
Ford has launched an aggressive advertising campaign against the South Korea free trade agreement (FTA), which it argues would lock in unfair trade between the countries.
In newspaper advertisements running within and outside the Beltway, Ford argues that for every 52 cars Korea ships to the U.S., the U.S. "can only export one there."
The ad states: "We believe in free trade, and this isn't it. In fact, Ford has supported every trade agreement approved by Congress since 1965 — until this one."
The pitch comes as U.S. and South Korea trade negotiators sit down in Seoul on Thursday and Friday to try to resolve differences over auto trade. President Obama wants to reach a deal on the trade pact negotiated by the Bush administration by the Nov. 11-12 G-20 meeting he will travel to in Seoul.
Ford wants U.S. negotiators to get Seoul to eliminate barriers that Ford says hamper U.S. sales. Barring that, Ford would like to see a slower elimination of U.S. tariffs on cars and trucks from South Korea, something the Korean negotiators are unlikely to agree to.
The talks are resuming immediately after a midterm election in which Obama's party suffered devastating losses. Republicans have won around 60 seats, with some races still undecided, and will have a new majority next year.
While the GOP is seen as reflexively more free-trade, Ford Vice President for International Governmental Affairs Steve Biegun said the company has received strong support from Republicans in Congress on the trade deal. The company is the only U.S. automaker that did not accept a bailout from the government in the aftermath of the financial recession, and is seen as having clout on Capitol Hill.
South Korean auto producers sold 552,000 cars and light trucks in the U.S. in 2009, many of them made at U.S. plants, but Ford sold fewer than 3,000 cars in South Korea that year. Ford argues the reason is non-tariff barriers and other unfair rules.
South Korea points to increasing imports to show its market is opening, and it says Ford and other U.S. companies would sell more cars under the trade deal, which would eliminate tariffs on cars and trucks in both countries.
Supporters of the deal also say the U.S. could lose out to other countries signing deals with South Korea. The European Union recently concluded a trade pact with Seoul.
President Obama has set a goal of doubling U.S. exports in the next decade as he pushes for an economic turnaround. While the midterm election is being seen as a rejection of his policies, Obama on Wednesday largely blamed the economy for the result.
The Ford advertisement can be seen on a website set up by the company.
---