France for resumption of India-EU FTA talks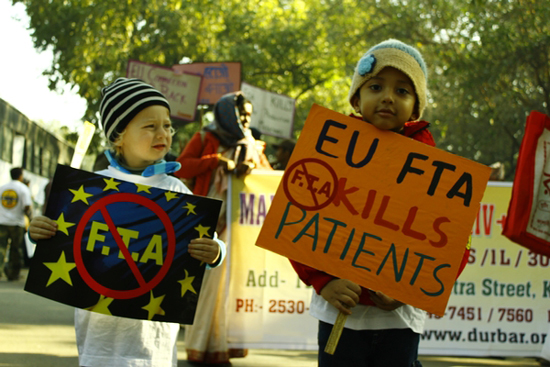 Financial Express | 26 January 2016
France for resumption of India-EU FTA talks
India and France on Monday affirmed commitments for a resumption of the stalled negotiations on India's free trade agreement with the European Union (EU) as soon as possible.
"(Prime Minister Narendra Modi and French President Francois Hollande) underlined the importance of the dialogue on trade issues through the India-France Joint Commission, as well as their strong commitment to the European Union-India Broad Based Trade and Investment Agreement (BTIA)," according to a joint statement issued following the state visit of Hollande here.
Last week, India and the EU took stock of "outstanding issues" for the BTIA after a gap of almost three years which included the EU demand for a reduction in the duties on automobiles, wines and spirits, and Indian demand for greater movement of professionals.
Following the exercise, the EU has suggested holding a secretary-level meeting for this purpose, which is yet to be scheduled. As many as 16 rounds of negotiations took place between 2007 and 2013 for the proposed BTIA, but the negotiations were stuck after that.
Commerce secretary Rita Teaotia last week said India had moved ahead on many issues, including easing foreign direct investment norms in insurance, telecoms and banking, which were in sync with the demands of the EU. "In addition to that, we have now a model Bilateral Investment Treaty approved by the Cabinet and that forms the basis on which investment discussions can also go on," she said.
India wants data security status, relaxations in movement of professionals, real market access in terms of sanitary and phyto-sanitary (norms related with plants and animals); and technical barriers to trade measures adopted in EU.
The negotiations were expected in August last year, but they were deferred by India, expressing disappointment and concern over the EU banning sale of around 700 pharma products, clinically tested by GVK Biosciences.
On Monday, India and France also hailed the convening of a dialogue on economic and financial issues at a higher level on cooperation in economy and finance. "This framework will be the forum to discuss, on an annual basis, global and financial governance issues as well as bilateral economic and financial matters, to promote exchanges and cross investments between our two countries and address any hurdles between French and Indian businesses and industries," the joint statement said.
---