Group vows to protest if ban on ractopamine lifted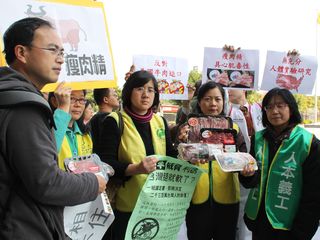 CNA | 2012/02/10
Group vows to protest if ban on ractopamine lifted
Taipei, Feb. 10 (CNA) — An association of hog growers threatened Friday to mobilize its members in protest outside the Presidential Office if the government buckles under pressure and allows the entry of U.S. beef imports containing a banned leanness-enhancing drug.
Chang Yu-chi, president of the R.O.C. Federation of Swine Cooperatives, said in Yunlin County that hog growers around the island are preparing to organize a protest campaign by "driving hogs to the Presidential Office."
Lu Cheng-chang, director of Yunlin County's Agriculture Department, and representatives of hog farms shouted the slogans, "ban ractopamine, say no to toxic swine and cattle," to back their appeal.
The United States has pressured Taiwan to accept beef with residues of ractopamine, a leanness-enhancing drug used as a feed additive that is allowed in some countries but banned in the European Union and Taiwan.
Washington saw the issue as important enough to block the resumption of talks under the Trade and Investment Framework Agreement (TIFA) after Taiwan cracked down on beef with ractopamine residues in early 2011.
Though the immediate focus is on the use of ractopamine in beef, the head of the Yunlin County Hog Association, Kang Fu-hu, said any opening to beef would encourage the U.S. to put tremendous pressure on Taiwan to also accept U.S. pork containing the additive.
If U.S. meat containing ractopamine were to make inroads into Taiwan, it would not only affect public health but also seriously affect the livelihood of cattle and hog growers, Kang said.
Lu said Yunlin County has 1.5 million hogs, the most of any administrative district in Taiwan, with annual sales of about NT$15 billion (US$506.3 million), and vowed that the county would not allow imported cattle and swine to affect the livelihood of local growers.
Meanwhile, several civic groups, including the Homemakers' Union and Foundation and the Taiwan Academy of Ecology, gathered in Taichung to express their opposition to opening Taiwan to U.S. beef containing ractopamine.
The representatives of the civic groups noted that Yilan County and five counties and cities in southern Taiwan have openly opposed lifting the ban, and they hoped that Taichung and other cities and counties would also voice their opposition to the drug.
The Taichung government responded to the groups' appeal by promising to step up its crackdown on illegal animal drugs.
(By Yeh Tzu-kang, Yang Su-jui, Chen Ching-ping and Lilian Wu)
Enditem/ls
---