In Beijing, Ukraine and China begin talks on free trade agreement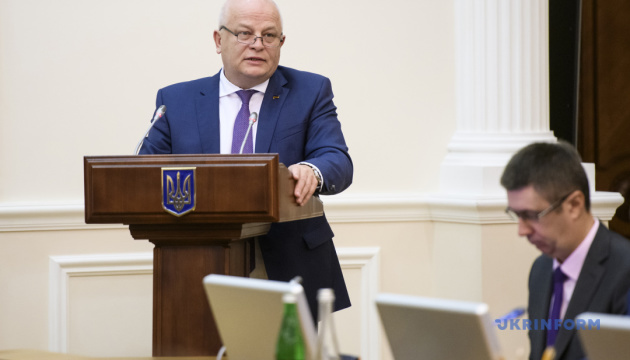 Kyiv Post | 8 November 2018
In Beijing, Ukraine and China begin talks on free trade agreement
By Jack Laurenson
Ukrainian and Chinese officials began preliminary talks on a possible, future Ukraine-China free trade agreement, or FTA, in Beijing during the China International Import Expo, or CIIE, being held from Nov. 5 to 10.
Ukraine's Economy Minister Stepan Kubiv initiated talks on a free trade agreement with Chinese Vice-Premier Liu He during their meeting on Nov. 8.
According to a post on Kubiv's Facebook page, a lawmaker widely regarded as an advocate for substantially deepening ties between Beijing and Kyiv, has suggested for the first time that Ukraine and China start the process of drafting an FTA.
"I have offered to Vice-Premier Liu He to start joint Ukrainian-Chinese consultations on the prerequisites for creating a Ukraine-China free trade area," he wrote on social media on Nov. 8.
According to Igor Zhovka, head of foreign policy for the Ukraine's Presidential Administration, Kubiv's offer to Chinese leaders came with President Petro Poroshenko's support.
In a personal letter to Vice-Premier Liu He, the text of which was later shared by Zhovka on his social media, Petro Poroshenko said that China and Ukraine have "today created a strong foundation" in bilateral relations and "it's time to start a new phase in developing the relations between our people."
The events taking place in Beijing from Nov. 8 to 10 are dominated by official roundtable discussions and meetings behind closed doors that are rounding up the weeklong expo in which Chinese organizers hosted more than 300,000 visitors and delegates from 172 countries.
Chinese President Xi Jinping indicated, as he opened the expo in Shanghai on Nov. 5, that the purpose of the event was to promote and encourage a huge increase in exports to his country: the Communist head of state said that the Chinese market needs $30 trillion in extra goods over the next 15 years.
For delegates in China this week, including a substantial group of lawmakers and executives from Ukraine, that desire for more imports has been a chance to scout a huge, potential new marketplace and possibly strike some deals.
For Kubiv, it was a chance to begin talks on the formation of a free trade pact that would greatly liberalize the flow of goods between Ukraine and China.
But even without an FTA, trade between China and Ukraine is growing significantly.
From January through August this year, total bilateral trade between Ukraine and China grew by more than expected by most observers: a 21 percent increase over the same period as in 2017.
The total trade turnover for China and Ukraine is likely to pass $8.7 billion by the end of 2018 and hit $10 billion by 2019, according to official estimates — but Stepan Kubiv wrote on Nov. 8 that it can increase to $20 billion before the end of 2023, even without an FTA.
---