India-EU FTA: Dairy sector seeks insulation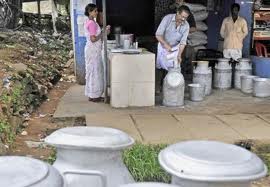 Hindu Business Line 14.04.2013
India-EU FTA: Dairy sector seeks insulation
NEW DELHI, APRIL 14: The dairy industry, led by the country's largest milk cooperative that owns the Amul brand, has opposed the proposed India-EU free trade agreement (FTA) on the ground that it would led to subsidised dairy products from Europe flooding India.
"This will rob the domestic dairy industry and 80 million farmers that are connected to it, from their rightful access to a growing market within India," said R.S. Sodhi, Managing Director, Gujarat Co-operative Milk Marketing Federation, in a press release.
Sodhi argued that the Government had encouraged the co-operative model in the dairy sector with active policy protection. "It does not make sense that now dairy trade will be opened up to unfair competition from subsidised European exports under this FTA, just when it shows potential to grow into a vibrant industry," he said.
Farmer body Bharatiya Kisan Union (BKU) is also opposed to the proposed trade pact which, it claimed, would benefit the EU more as more than 60 per cent of Indian farm exports already go to the EU duty free.
So far, India has protected the dairy sector in all the free trade pacts signed including ones with the Asean countries, Japan and South Korea. Pressure is, however, mounting on it to open up the sector in the FTAs India is negotiating with Australia and New Zealand. These countries are keeping a keen watch on the India-EU FTA negotiations to see how much access they could push for in their own trade deals with India.
amiti.sen@thehindu.co.in
---