India to oppose Vodafone's move to invoke BIPA pact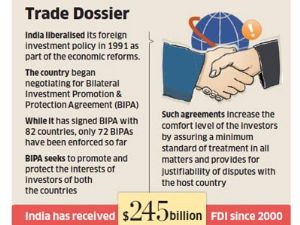 Economic Times | 31 Mar, 2012
Government to oppose Vodafone's move to invoke BIPA pact
Deepshikha Sikarwar,ET Bureau
NEW DELHI: The government is likely to oppose any move by Vodafone Plc to invoke the India-Netherlands Bilateral Investment Promotion and Protection Agreement (BIPA) if it is forced to cough up Rs 12,000 crore in taxes on the grounds that the investment was routed through several step down firms based in different countries and that the treaty does not cover tax disputes.
"Investments into India have been routed through a Mauritius-based company and the share transfer took place through a Cayman-based company. Vodafone itself is based in UK," said a government official.
The acquisition of Hutchison's stake in Hutchison Essar by Vodafone for $11.2 billion in 2002, which has triggered the Rs 12,000 crore tax case, was executed through a Dutch subsidiary, Vodafone International Holdings BV, and the revenue department had sent its tax demand to this company. Moreover, the official said India-Netherlands BIPA clearly states that the agreement does not cover tax disputes and its sole purpose was to promote and protect the interests of investors of either country in the territory of other country.
"..The provisions of paragraphs 1 and 2 in respect of the grant of national treatment and most favoured nation treatment shall also not apply in respect of any international agreement or arrangement relating wholly or mainly to taxation or any domestic legislation or arrangements,'' says paragraph 4 of the treaty. The government's official stand is that it will take a decision on the issue only if Vodafone brings a formal claim. "We will see what we need to do when when we receive something formally," said economic affairs secretary R Gopalan.
In his recent budget speech, finance minister Pranab Mukherjee said the government would amend the income tax law to make all indirect transfers involving underlying assets in the country liable to tax with retrospective effect. This arms the government with the power to tax Vodafone transaction, even after the Supreme Court ruled in its favour and quashed the revenue department's tax demand.
Vodafone has said that the proposed changes in the Indian taxation laws are grossly unjust and that it was 'urgently considering a number of courses of action both in India and internationally.' While the company says it is not yet in a position to comment on the details of the course of action, a person familiar with the situation said Vodafone could bring a counter-claim against the government by invoking the bilateral investment treaty between India and Netherlands which came into effect in 1996.
---