India writes to Singapore, Japan and South Korea to recast investment deals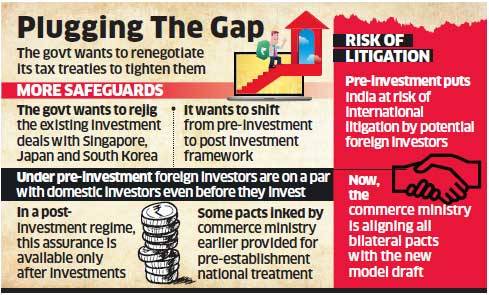 Economic Times | Aug 11, 2016
India writes to Singapore, Japan and South Korea to recast investment deals
By Deepshikha Sikarwar, ET Bureau
NEW DELHI: India has turned its attention to comprehensive economic partnership agreements with Singapore, Japan and South Korea after having fixed the loopholes in the much-abused investment treaties with Mauritius and Cyprus. The government has written to the three nations, seeking recast of the existing investment deals to allow for national treatment to foreign investors only after they have established their businesses in India, officials said.
The current pre-establishment provision in these agreements allows foreign investors to be treated on a par with domestic companies even before they invest in India, putting the country at risk of international litigation by potential foreign investors. Singapore, Japan and South Korea are likely to be big investors in India's infrastructure in the coming years.
"We want to align all bilateral agreements with the new draft...The commerce ministry is taking up the issue with all trade partners with whom we have comprehensive partnership agreements to ensure they are in line with the new model," said a senior government official, who did not wish to be identified. The finance ministry, on its part, has already written to all the nations with which India had inked a bilateral investment pact, seeking to nullify it and to ink a fresh one.
Since comprehensive economic partnership agreements are administered by the commerce and industry ministry, it has been entrusted with the job of amending the investment components in these pacts. After witnessing an increase in arbitration cases, India had in December 2015 amended the draft of model bilateral investment treaty that makes it mandatory for foreign investors to exhaust local judicial remedies before seeking arbitration.
The model bilateral investment pact offers foreign investors treatment on a par with their local counterparts after establishment of their business in the country.
---