Japan, China, South Korea fail to set goals for trade deal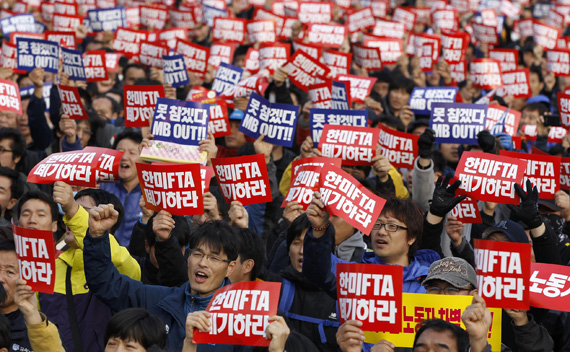 The Japan Times | 19 January 2016
Japan, China, South Korea fail to set goals for trade deal
High-ranking negotiators from Japan, China and South Korea failed to set goals for how far they want to open their markets in the latest round of talks on a three-way free trade accord, a Japanese official said.
The representatives agreed to keep working on the deal, reaffirming the pledge made by their leaders to seek an early conclusion to the negotiations, the official said Tuesday.
The three countries are considering holding working-level talks in April in South Korea, the official said.
The negotiators were Deputy Foreign Minister Yasumasa Nagamine, Chinese Vice Commerce Minister Gao Yan and South Korean Assistant Minister for Trade Negotiations Kim Hak-do.
This was the first time they have held talks since the leaders of the three countries vowed last November to speed up discussions on the trade accord amid improving relations between Japan and its two neighbors.
All three countries have been actively seeking trade pacts.
China and South Korea signed a free trade accord that took effect last month.
Japan along with 11 other countries reached a broad agreement on the Trans-Pacific Partnership free trade pact last October.
South Korea has shown interest in joining the TPP.
For Tokyo and Seoul, the latest meeting was also the first since the two neighboring countries struck a landmark deal in late December to resolve the protracted "comfort women" dispute.
However, the changing political and economic landscape failed to help the three nations make major progress in the three-way trade talks. China and South Korea are more cautious about drastic liberalization than Japan.
It will be a long time before they begin negotiating in earnest, a negotiation source said.
---