Japan's farm output to take ¥150 billion hit after new Pacific trade deal's effects kick in : estimates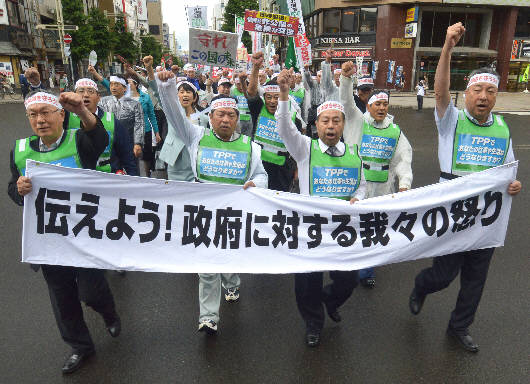 Japan Times | 20 December 2017
Japan's farm output to take ¥150 billion hit after new Pacific trade deal's effects kick in : estimates
(Kyodo) Japan's agricultural, forestry and fisheries output will suffer by up to ¥150 billion ($1.3 billion) once the effects of an 11-member Pacific Rim free trade agreement kick in, according to government estimates obtained by Kyodo News on Tuesday.
The anticipated loss in output is smaller than an earlier estimate of up to ¥210 billion, which was based on the Trans-Pacific Partnership's original membership including the United States, a major exporter of farm products.
The deal without the United States is known as the Comprehensive and Progressive Agreement for Trans-Pacific Partnership.
After U.S. President Donald Trump withdrew his country from the TPP in January, Japan led the way in crafting a new deal to be implemented without Washington.
The government estimates, expected to be announced on Thursday, also say a recently finalized trade agreement with the European Union would force the country's output in the same areas to decrease by a maximum of ¥110 billion.
These estimates were calculated by identifying major products with tariffs currently at 10 percent or higher and with an output worth at least ¥1 billion, and gauging how they would be affected by an influx of cheaper products from abroad.
For the TPP, 19 agricultural products such as beef and wheat, as well as 14 forestry and fisheries products ranging from plywood to sardines were taken into consideration.
The estimates for the Japan-EU deal cover 18 agricultural products including pork and dairy products as well as 10 forestry and fisheries products ranging from structural glued laminated wood to bonito and tuna.
---