Justin Trudeau's visit reflects uneasy state of Indo-Canada trade ties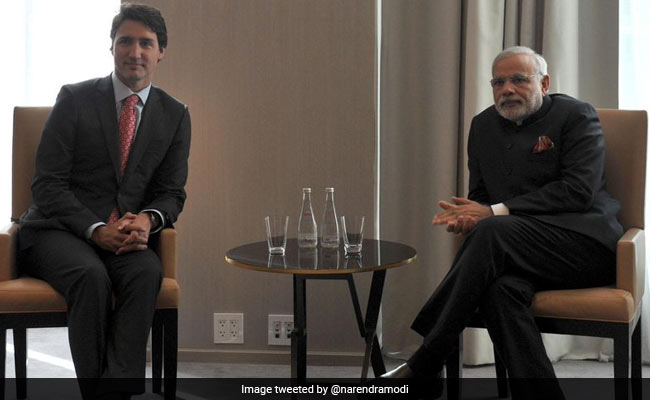 LiveMint | 26 February 2018
Justin Trudeau's visit reflects uneasy state of Indo-Canada trade ties
by Asit Ranjan Mishra
New Delhi: Canadian Prime Minister Justin Trudeau's India visit last week, that turned out to be rather embarrassing, merely reflected the trade relationship between the two countries, which have been uneasy for the last couple of years.
From the very beginning, Trudeau's visit remained in the focus of attention for all the wrong reasons. Prime Minister Narendra Modi did not show up to receive Trudeau at the airport on 18 February unlike the exception he made for his recent high profile guests, apparently signalling India's unhappiness with Trudeau's alleged closeness to Sikh separatist leaders in Canada. It further irked the Indian establishment when a convicted Canadian citizen and Khalistani separatist Jaspal Atwal was invited to Trudeau's official event. The invitation was later withdrawn.
On trade and investment, progress has been elusive on two deals under negotiation—a bilateral investment treaty called the Bilateral Investment Promotion and Protection Agreement (BIPPA), and a free trade agreement known as Comprehensive Economic Partnership Agreement (CEPA).
The earlier Congress-led United Progressive Alliance government had almost finalized the BIPPA but did not sign the deal. After the Narendra Modi government came to power, it brought in a draft BIT (bilateral investment treaty), diluting provisions like investor-to-state dispute settlement mechanism and asked all partner countries to renegotiate such existing treaties. This put Canada in a spot as it had already spent substantial energy and time in negotiating the BIPPA. India now insists that both BIT and CEPA need to be finalized simultaneously for a more balanced outcome.
India's decision in November to raise import duties on pulses by up to 50% and putting stringent fumigation requirements impacted Canada the most, which used to supply pulses of around $1 billion to India every year. India even gave less time to Canada to comply with the new fumigation norms compared to the time it gave the US and Australia, prompting complaints of discrimination.
"We are extremely concerned over India's increase in duties by 50% of all imported peas without providing any advanced notice. The Prime Minister will undoubtedly be raising it at the first opportunity he gets," Canadian agriculture minister Lawrence MacAulay told the House of Commons in November after India's decision.
India has been the largest market for Canadian pulses, peas and lentils. Traditionally a net importer of pulses, India has since last year received a bumper crop in pulses and is unwilling to import the staple food, to protect domestic farmers.
A joint statement issued after the meeting between Trudeau and Modi on Friday promised to finalize "mutually acceptable technological protocols" within 2018 to enable the export of Canadian pulses to India free from pests of quarantine importance.
While Canada is keen to conclude the CEPA with India at a time US President Donald Trump has forced it to renegotiate the North American Free Trade Agreement (Nafta), even threatening to terminate the trade deal, there has been little progress even after 10 rounds of negotiations starting from 2010.
India shared a trade deficit of $2.1 billion with Canada in 2016-17, with $2 billion of exports and $4.1 billion of imports during the financial year.
India has clearly communicated to Canada that since Canada is not a large market for Indian goods, it would like to have a better services offer from Canada under the proposed CEPA. India is interested in creating more jobs for its teeming information technology professionals by facilitating easier work visas under the trade agreement with Canada.
The joint statement said that in order to realize the full potential of bilateral trade and investment, both sides will renew efforts to expand and diversify bilateral economic and commercial relations, without giving firm timelines. "They will also intensify negotiations to finalize a Comprehensive Economic Partnership Agreement and a Bilateral Foreign Investment Promotion and Protection Agreement," it added.
Asked about the lingering negotiations for the proposed trade and investment deals, ministry of external affairs (MEA) spokesperson Raveesh Kumar on Thursday sought to distance the MEA from the matter.
"There are existing mechanisms between the two sides to discuss the issues…There are different ministries and departments that take a call on the investment promotion agreement. There was some discussion that took place this morning as well and this is a continuing process; let's see how we move on this," Kumar said.
---