Kenyan exporters call on EU, EAC to hurry up with trade deal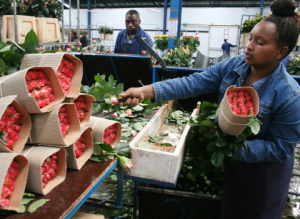 The Star | 24 September 2014
Kenyan exporters lobby EU to speed up new trade pact
By Constant Munda
FRESH produce exporters are optimistic of a positive outcome in the delayed signing of an economic partnership agreement between the five-member East African Community and the 28 European Union states.
The EAC delegation is today expected to open negotiations with the EU in Brussels over the finalisation of the draft EPA deal that was agreed on by Kenya, Tanzania, Uganda, Rwanda and Burundi on Saturday.
Foreign affairs and international trade secretary Amina Mohammed said on Sunday that the meetings with EU were expected to run through to Friday.
The Kenya Flower Council yesterday said it hopes the negotiating parties can fast track the ratification of the EPA in a record six weeks if it's signed this week.
This, according to KFC chief executive Jane Ngigi, will mitigate the danger of Kenyan exports losing a considerable share in EU markets to its main competitors Ethiopia, Colombia and Ecuador.
EU accounts for about 90 per cent of Kenya's flower market, a leading foreign exchange earner with close to Sh50 billion in annual inflows.
Ngigi said that the price of Kenya's flower exports to EU are consequently set to go up by between four and eight per cent once they are categorised under General System of Preference tariffs from October 1.
"We are waiting to see a positive outcome out of the negotiations," Ngigi said in a telephone interview. "Our hope is that they can agree to take a maximum of six weeks for the agreement to be ratified."
EU's resident Trade and Communications counsellor Christophe De Vroey maintained yesterday that the approval process "typically takes three to four months".
He nonetheless said it can take much less time if there is political will.
The damage, though short will hurt Kenyan exporters who from next Wednesday will have part of their earnings taken up by export tariffs under the GSP regime.
Kenya is, as a result, arguably the only African country whose exports will not enjoy preferential, duty free access to the EU markets.
This is because the rest of the EAC countries are cushioned through 'Everything But Arms' trade agreement for Least Developed Countries.
Majority of the other countries are also protected through the Economic Community of West African States and Southern African Development Community trade blocs that have already signed and ratified the EU EPAs.
On Monday, the EU in a public notice said Kenya exports including fresh produce that have been been enjoying duty free access to the lucrative EU market since January 2008 will now be slapped with duties of between 2.6 and and 20.5 per cent.
"This being a trade issue, we have provided our members with as much information as possible including the right documentation they need to have," Ngigi said.
While Ngigi has estimated losses at Sh1 billion a month, Vroey has brings it down toto Sh400 million.
---