Korea signs FTA with Central America
All the versions of this article: [English] [Español] [français]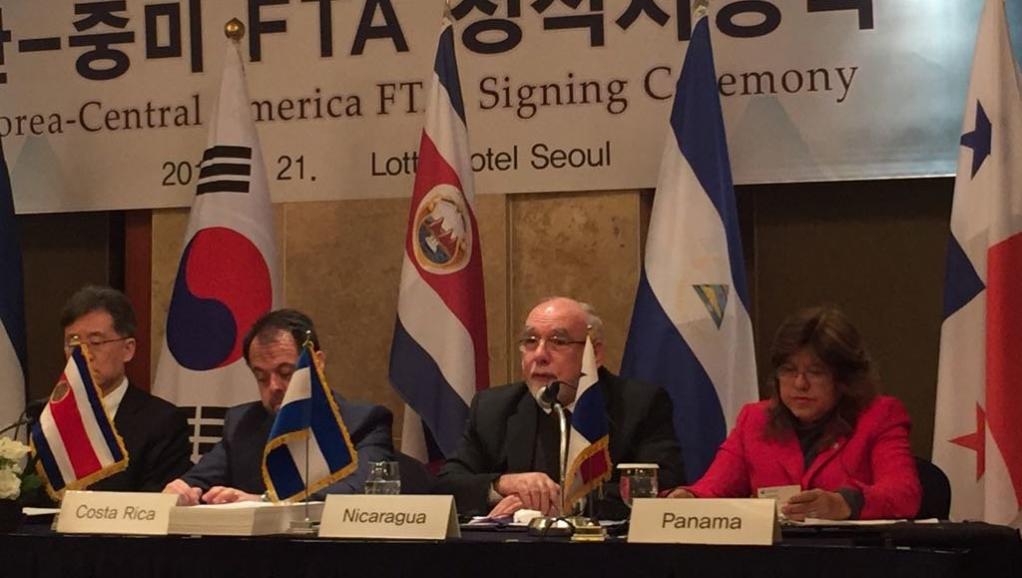 Korea Times | 21 February 18
Korea signs FTA with Central America
By Yoon Ja-young
Korea has completed a free trade agreement (FTA) with five countries in Central America, lowering tariffs on over 95 percent of goods.
Trade Minister Kim Hyun-chong and ministers from Costa Rica, El Salvador, Honduras, Nicaragua and Panama signed the Korea-Central America FTA in Seoul, Wednesday, after two years and eight months of negotiations.
"It will be an opportunity for Korea and Central America to reach a more comprehensive strategic partnership," Kim said.
As Korea is the first Asian country to sign an FTA with all five of those Central American countries, it is expected to get the upper hand in the market. China signed a bilateral trade pact with Costa Rica in August 2011, but there have been no other FTAs signed between Asian and Central American countries since then.
It is also meaningful since concern over protectionism in trade is rising following the inauguration of the U.S. Trump administration. Since Korea has FTAs with South American countries Chile, Peru and Colombia the pact with Central America will help it form a network of FTAs, linking North America and South America.
"The Korea-Central America FTA will give a new momentum in exports to the United States, opening up a third route for Korean businesses to reach the North American market," the trade ministry noted in a media release.
According to an analysis by the Korea Institute for International Economic Policy, the deal is expected to increase real gross domestic product (GDP) by 0.02 percent and create $690 million in consumer benefits. It will also create 2,534 jobs.
It will especially increase exports of automobiles and steel, leading to a $580 million improvement in trade accounts and a 2.57 trillion won increase in production over the next 15 years. Korea's exports to the five countries totaled $2.2 billion last year, while imports stood at $333 million. Korea's investment in Central America was $106 million last year.
The Central American countries will increase exports of items such as tropical fruits, coffee and sugar, and Korean consumers will benefit from lower prices. Exports of rice, pepper, garlic and onion, meanwhile, were not subject to tariff cuts, minimizing the damage to Korean farmers.
As all of the five Central American countries will scrap tariffs on over 95 percent of goods, small- and medium-sized firms will also see exports increase in cosmetics, medicines, textiles and automobile components.
The pact lowered down barriers in the services market. Investors will also enjoy stronger protection, with adoption of the investor-state dispute settlement (ISDS) system and a guarantee of free remittances by investors.
With the popularity of Korean culture rising in the region, the Korea-Central America FTA bolstered protection of intellectual property rights.
The agreement is expected to take effect in the first half of this year, following approval at the National Assembly.
The official version of the Korea-Central America FTA is available at the ministry's FTA Website, www.fta.go.kr.
---