Korea willing to listen to US on improving free trade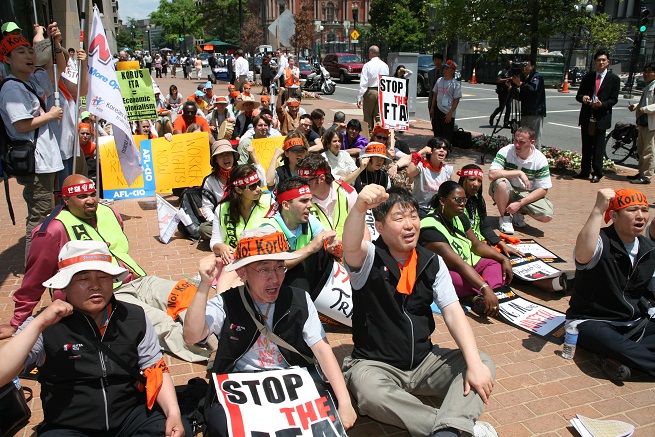 Korea Times | 29 November 2016
Korea willing to listen to US on improving free trade

By Park Hyong-ki
Minister of Trade, Industry and Energy Joo Hyung-hwan said Tuesday that the country is willing to be more "flexible and complementary" by further hearing out the U.S.' suggestions on their bilateral free trade.
In a meeting of the American Chamber of Commerce Korea in Seoul, the trade minister added Korea seeks to make the Korea-U.S. FTA (KORUS) a "mutually-beneficial platform" for further market opening, indicating that Korea is open to a possible renegotiation with the new Donald Trump administration.
President-elect Trump has pledged during his campaign that the current trade deals were unfair to the U.S. as many jobs were lost with manufacturers leaving its market, and that as the president, he will seek to either withdraw from those trade pacts or renegotiate for better terms based on his America-first policy.
However, Minister Joo also said that while Korea tends to continue building the KORUS FTA as a "useful constructive platform" through openness, the current trade deal has so far been favorable to both sides.
It has not only shaped and improved the trade in goods and services, but also brought about a balance, the minister said.
The US trade balance with Korea estimated to improve by $15.7 billion on increased U.S. exports of its agricultural and automobile products to Korea.
Korea's investment in the U.S. more than doubled averaging $5.7 billion over the last four years after the KORUS FTA went into effect.
It was an increase from $2.2 billion on average before the bilateral trade deal, Joo noted, adding that about 10,000 jobs were created in the U.S. because of the KORUS FTA.
"When the Korean economy gets back on track and the services market becomes more open with our trade in services further expanding, it will get more balanced," Joo said.
Also, as the U.S. economy is doing better than Korea with the partnership forecast to deepen and broaden with the FTA in the center, the KORUS FTA will further make an impact on investments and jobs for the two countries, he added.
---