Mad-cow scare stalls US beef sales in Sth Korea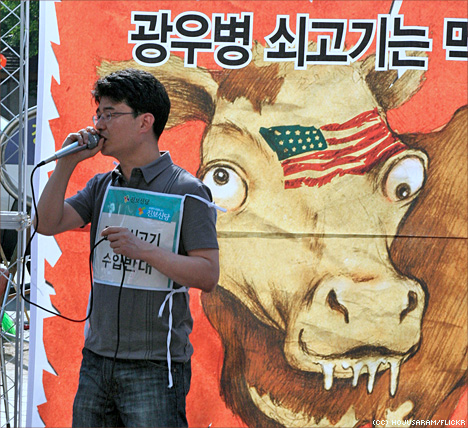 NZ Herald | Thursday Apr 26, 2012
Mad-cow scare stalls US beef sales in Sth Korea
South Korean retailers are suspending sales of American beef after a dairy cow from the United States was found to have mad cow disease.
Lotte Department Store and Home Plus said they halted sales of US beef to calm worries among South Koreans.
South Korea banned American beef after the first case of mad cow disease in the US was discovered in late 2003 but the trade resumed in mid-2008.
South Korean agriculture officials are considering whether to formally suspend delivery of US beef to stores by halting quarantine inspections, preventing it from clearing customs.
South Korea is the fourth-largest importer of US beef. It imported 107,000 tonnes, worth $563 million, last year.
The first new case of mad cow disease in the US since 2006 has been discovered in a dairy cow in California, but health authorities said yesterday that the animal never was a threat to America's food supply.
The infected cow, the fourth ever discovered in the US, was found as part of Agriculture Department surveillance that tests about 40,000 cows a year for the fatal brain disease.
No meat from the cow was bound for the food supply, said department veterinary chief John Clifford.
"There is really no cause for alarm here with regard to this animal."
Mad cow disease, or bovine spongiform encephalopathy (BSE), is fatal to cows and can cause a fatal brain disease in people who eat tainted beef. The World Health Organisation has said tests show humans cannot be infected by drinking milk from BSE-infected animals.
After a huge outbreak in Britain that peaked in 1993, the US intensified precautions to keep BSE out of American cattle and the food supply.
Clifford said the California cow was what scientists called an atypical case of BSE, meaning it did not get the disease from eating infected cattle feed, which was important.
It's "just a random mutation that can happen every once in a great while in an animal", said Bruce Akey, director of the New York State Veterinary Diagnostic Laboratory at Cornell University. "Random mutations go on in nature all the time."
Questions remain about how exactly the cow died and whether the incident will prompt the Agriculture Department to change how it tests for the disease. But Mike Doyle, director of the University of Georgia's Centre for Food Safety, said the testing system worked because it caught what was a really rare event.
The three previous confirmed cases of BSE in cows in the US were in a Canadian-born cow in 2003 in Washington state, in 2005 in Texas and in 2006 in Alabama.
Both the 2005 and 2006 cases were also atypical varieties of the disease, Agriculture Department officials said.
Clifford said the finding showed that safeguards the US Government and other nations had put into place in recent years were working.
Last year there were only 29 worldwide cases of BSE, a dramatic decline since the peak of 37,311 cases in 1992.
Clifford credited the decline to the effect of feed bans as a primary means of controlling the disease.
There are two forms of the human version of mad cow disease. One, called classic Creutzfeldt-Jakob disease, occurs sporadically, with about one case per million people worldwide.The other comes from eating infected meat.
Past scares about mad cow disease have affected beef exports to Japan, Korea and other countries.
Japan banned all US beef imports in 2003 after the first case of mad cow disease was found in the US. It resumed buying American beef in 2006 after a trade agreement setting new safety standards.AP
---