Massive anti-FTA protests paralyze Seoul
The Chosun Ilbo | Seoul | 12 July 2006
Massive Anti-FTA Protests Paralyze Seoul
Massive protests against free-trade talks between Korea and the U.S. paralyzed traffic in downtown Seoul on Wednesday. Major roads into the city center turned into waterlogged parking lots as protestors clashed with police amid heavy rains.
A coalition of anti-FTA groups bringing together some 300 groups including the Korean Confederation of Trade Unions and the Korean Teachers and Education Workers Union gathered in different parts of the capital from 2 p.m. Some 25,000 marched to Seoul Plaza at 4 p.m. and urged the government to walk away from the FTA talks now underway here. Demonstrators headed for Sejong Boulevard for a rally outside Cheong Wa Dae at 6 p.m., and 24,000 riot police were sent in to deal with them.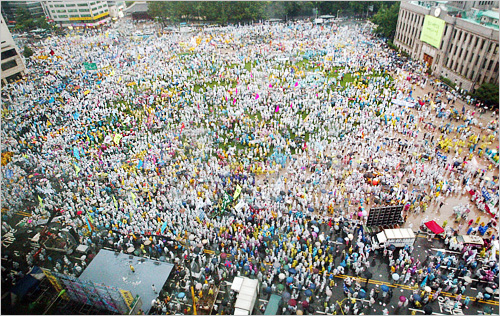 The core of the anti-FTA alliance are farmers and film industry people, who will sustain the hardest blow from a Korea-U.S FTA. But many generally anti-American organizations that also led violent protests against a new U.S. Forces Korea headquarters in Pyoengtaek have joined them, leading to charges that the protests have turned into an anti-American movement.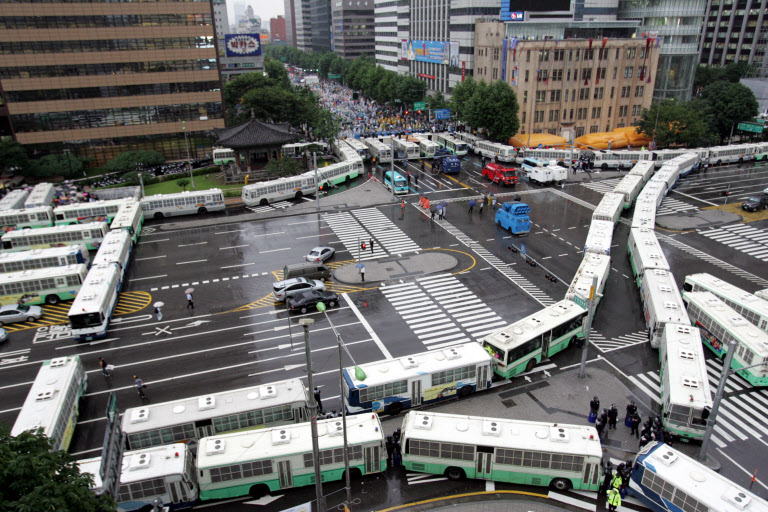 The rallies served as a catalyst for impromptu demonstrations in Seoul, from a group of women recently fired from the Korea Train Express (KTX) to unionized Kolon staff and members of the Korean Metal Workers' Union, who mounted the roof of the Ilmin Gallery in Sejong Boulevard from 9 a.m. Among their plethora of demands was a call to improve the rights of contract workers. The KCTU also waged a one-day general strike in protest against the FTA talks starting at 10 a.m.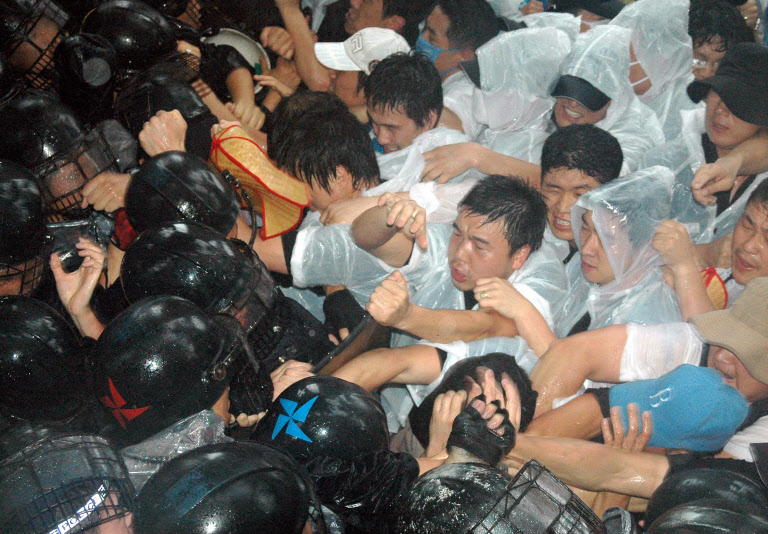 The Ministry of Labor estimated that 74,000 people from 101 companies under the KCTU participated in the strike. A day earlier, eight members of the Korean Federation of University Student Councils were arrested trying to enter the U.S. base in Yongsan, Seoul after distributing anti-FTA leaflets.
Major roads leading to central Seoul were clogged all day long due rain and rallies, and cars stood bumper-to-bumper late into the night in northern Seoul. Police blocks on several roads to prevent protesters from heading for Cheong Wa Dae made matters worse, and subway trains did not stop at some stations.
---