Media barred in Brisbane as unions rally against Chinese free trade agreement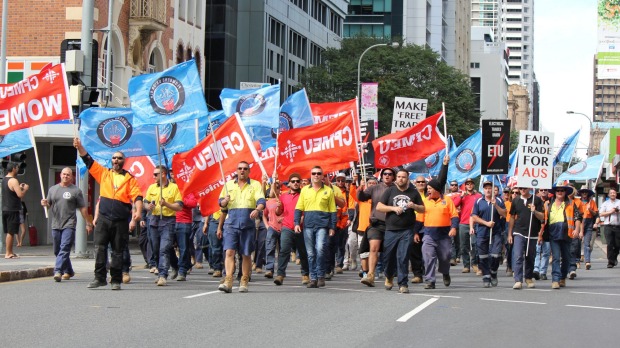 Sydney Morning Herald | 27 Jul 2015
Media barred in Brisbane as unions rally against Chinese free trade agreement
Cameron Atfield
Political journalist
Overzealous security has barred media from a public hearing into Australia's free trade deal with China, prompting union claims of a cover-up.
But the Federal Court says it was less a case of conspiracy than a security guard acting beyond his remit.
A Brisbane Commonwealth Law Courts security guard refused the AAP reporter entry into the Joint Standing Committee on Treaties' public hearing and said only members of the public were allowed inside.
"Journalists are not being allowed into the hearing, or this building," the security guard told the reporter.
A police officer intervened, suggesting that as proceedings had already started, entering the room would be disruptive.
The Electrical Trades Union seized on the incident and said it was a case of the Abbott government avoiding scrutiny.
However, a Federal Court spokesman said the security guard had acted without authority.
"There was no authorised ban on media attending today's JSCT public hearing," he said.
"It is an open event. I have established that security took the decision preventing at least one member of the media entry.
"This was done without referral to the Federal Court. It is regrettable that this happened."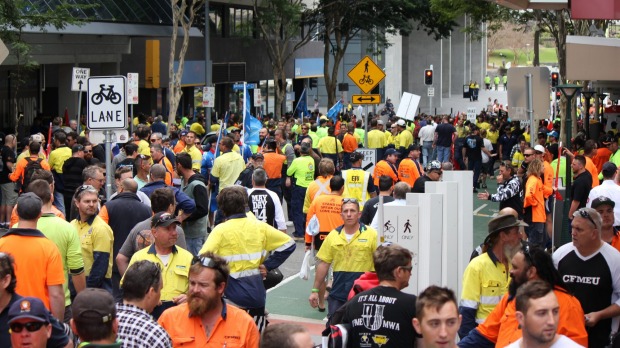 Outside, a large union protest against the rally was being held at Tank Street, on the city side of the Kurilpa Bridge.
Media access at the rally was also restricted, with police preventing Fairfax Media from entering an area set aside for organisers and reporters.
Organisers said more than 5000 attended the rally, but a police spokesman said the official estimate was "somewhere between" 2000 and 2500.
Queensland independent Senator Glenn Lazarus said the FTA was not in the national interest.
"If this free trade agreement is so good, why is it so damn secretive?" he said.
"This government has a long history of putting other countries ahead of this country and it's about time the Abbott government thought about the people of Australia and the jobs of this country before overseas companies."
Maritime Union of Australia Queensland branch secretary Bob Carnegie bristled at the suggestion the opposition to the FTA was driven by racism.
"This government thinks we're racist because we do not want Chinese workers coming to this country and being exploited and paid a pittance," he said.
"That's not racism, that's good unionism.
"We are not about workers anywhere being exploited. Unions are about picking people up, not putting them down."
And Mr Carnegie hinted at what could come should the union movement choose to flex its muscle over the issue.
He said all unionists' membership cards have them unity and the "power to defeat all that will destroy us".
"We have gone through some battles," Mr Carnegie said.
"We have seen technology decimate our membership, but still 90 per cent of everything that comes across this country, be it our clothes, our cars, whatever, everything that's imported comes to our country in a container.
"And my membership is 100 per cent controlling that import and export and if anybody – any employer – thinks that the Maritime Union of Australia is anything other than shoulder to shoulder with the CFMEU, with the ETU, the plumbers, the metal workers and with any trade union that's in a struggle, well they've got rocks in their stupid, big heads."
Other speakers included ACTU president Ged Kearney, West Australian Labor Senator Sue Lines, ETU national secretaty Allen Hicks and Queensland Council of Unions assistant secretary Ros McLennan.
Protester James Goldie, a painter, said they were there to protect workers' rights – including those coming to Australia from China.
"It's about us sticking together and saying our jobs are important, and when you sell our jobs offshore, you're bringing in migrant workers that aren't on the same conditions that we're on," he said.
"At the end of the day, we want these guys to be on the same conditions and rates that we're on."
Another protester, who spoke on the condition of anonymity, said imported workers would not share the conditions enjoyed by their Australian counterparts.
"The Chinese builders can bring in their own materials and their own people and they don't have to live up to the same safety standards as our current legislation," he said.
– with AAP's Marty Silk, Suraya Daly and Madison Scott
---