Mexican farmers stage protest over US imports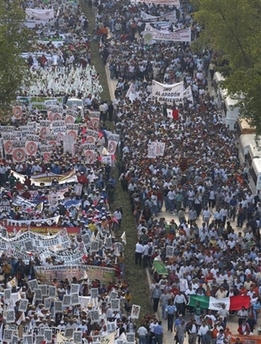 Reuters | 31 Jan 2008
Mexican farmers stage protest over U.S. imports
By Mica Rosenberg
MEXICO CITY (Reuters) — Thousands of Mexican farmers, some herding cows, flooded into the capital on Thursday and set a tractor on fire to demand government protection against cheap U.S. farm imports.
Final trade barriers to agricultural products in North America were lifted this month under the North American Free Trade Agreement, or NAFTA, opening Mexico for the first time to tariff-free U.S. exports of staple foods like corn and beans.
Mexican farmers complain President Felipe Calderon's government is not doing enough to protect them from competition from subsidized U.S. agricultural goods.
Protesters are demanding that Mexico renegotiate the treaty with the United States to maintain protections for home-grown corn and beans.
Long lines of slow-moving tractors choked highways from rural areas to Mexico City as farmers gathered to demonstrate in the Zocalo, the main square in the city center.
One tractor was set ablaze and farmers built a corral for dairy cows in front of the Mexican stock exchange. Four demonstrators carried through the streets a black coffin inscribed in Spanish with the words "rural Mexico."
"The free trade agreement is like an open wound for the Mexican countryside," said Victor Suarez, who heads a small farmers' group. "You can give the patient medical attention but if you don't stop the hemorrhaging first, the patient will die."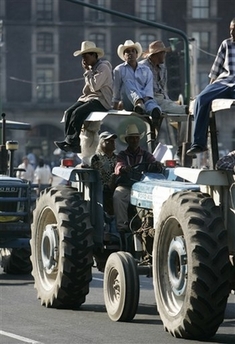 Since NAFTA took effect in 1994, corn tariffs have gradually been phased out and imports of U.S. yellow corn, mostly used in animal feed, have soared. They now account for close to 35 percent of Mexican consumption.
Mexican farmers fear zero trade barriers will encourage highly mechanized U.S. farms to start producing white corn, which has been Mexico's main crop since Aztec times.
"We are afraid we won't have enough money to eat because it is so expensive to produce and we'll have to sell our products too cheap," said Maria Ramirez, a bean farmer from the central state of Zacatecas.
Opposition legislators who support the rural sector have called for the resignation of Agriculture Minister Alberto Cardenas for failing to do enough to support farmers.
In an effort to allay criticism, Cardenas announced on Wednesday an expansion of cash supports to meat and egg producers to buy corn for animal feed, since international prices for the grain have skyrocketed in recent months.
Cardenas said the negative effects of the trade deal for corn and wheat growers will be offset by high international prices due to increasing U.S. demand for ethanol for use in vehicles.
"High prices are helping us bring thousands of Mexican farmers out of poverty. We have support programs for all the agricultural sectors in place," Cardenas said.
(Editing by Eric Walsh)
---