Mexico prepared to do a trade deal without Canada, official tweets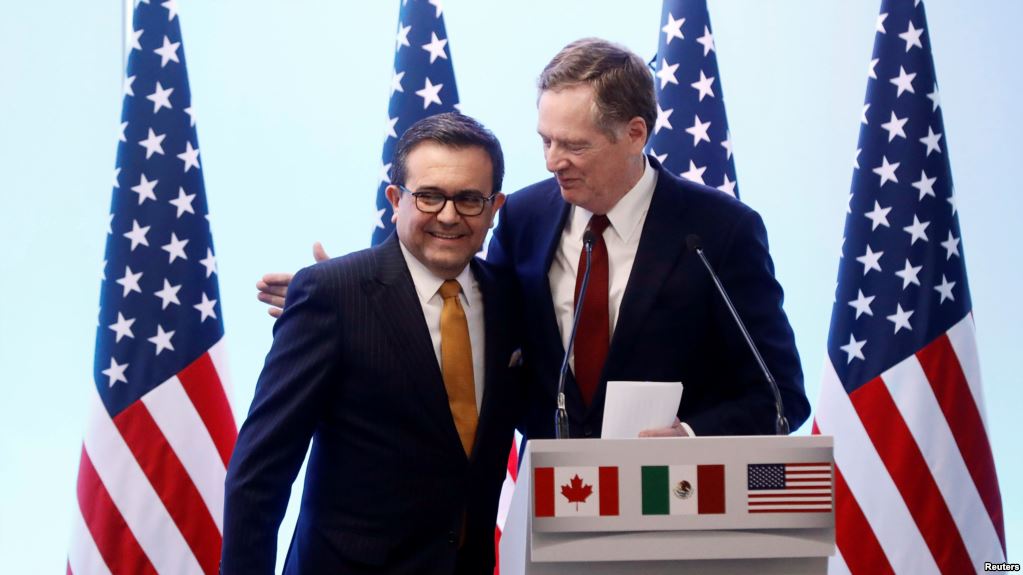 iPolitics | 13 September 2018
Mexico prepared to do a trade deal without Canada, official tweets
By Kelsey Johnson
Mexico is prepared to move ahead with an updated version of the North American Free Trade Agreement that does not include Canada if Ottawa and Washington cannot resolve their differences, the country's chief negotiator said Thursday.
In a tweet, Kenneth Smith Ramos said the "ideal scenario" remains a trilateral agreement.
"We hope the US and Canada will conclude their bilateral negotiation shortly," he wrote. "If that is not possible we are ready to advance bilaterally with the U.S."
#Mexico stated from the beginning of the negotiation that the ideal scenario is for #NAFTA to remain trilateral. We hope the US and Canada will conclude their bilateral #negotiation shortly. If that is not possible we are ready to advance bilaterally with the US...

— Kenneth Smith Ramos (@KenSmithramos) 13 September 2018
Smith Ramos did not give a specific deadline, however, the Mexican administration wants the trade talks dealt with before their next government is sworn in in December.
Canadian and American officials have been working towards an Oct. 1 deadline as they try and hammer out an agreement on a handful of sticking points including dairy and Chapter 19 – one of NAFTA's dispute resolution mechanisms.
Prime Minister Justin Trudeau has repeatedly said he will defend the country's supply management system and has said any new NAFTA deal must include a dispute resolution mechanism.
Speaking to reporters in Saskatoon earlier Thursday, Trudeau dismissed the Oct. 1 deadline, saying Canada will not sign a deal that is not in this country's best interest.
"We have seen various deadlines put forward as markers to work for," Trudeau said.
"We're going to continue to work towards the right deal for Canadians, a good deal for Canadians, and we'll do the work needed and try and get there as quick as we can, but we're going to make sure we're doing what is necessary to get the right deal for Canadians."
Oct. 1 was set after U.S. Trade Representative Robert Ligthizer wrote the U.S. Congress earlier this month to notify it a deal had been reached with Mexico. The letter specified that Congress would be presented with an agreement that included both Canada and Mexico.
Congress has authorized American negotiators under its Trade Promotion Authority to secure a trilateral deal. Whether Congress is prepared to accept a bilateral deal remains to be seen.
Any trade agreement reached will need to be ratified by the political bodies in all three countries.
U.S. President Donald Trump has threatened to levy tariffs on Canadian automobile exports if a NAFTA agreement is not reached. He has repeatedly accused Canada of being "unfair" to the United States, particularly on the dairy file.
With files from the Canadian Press
---