More to Australia–Japan security than bilateral defence ties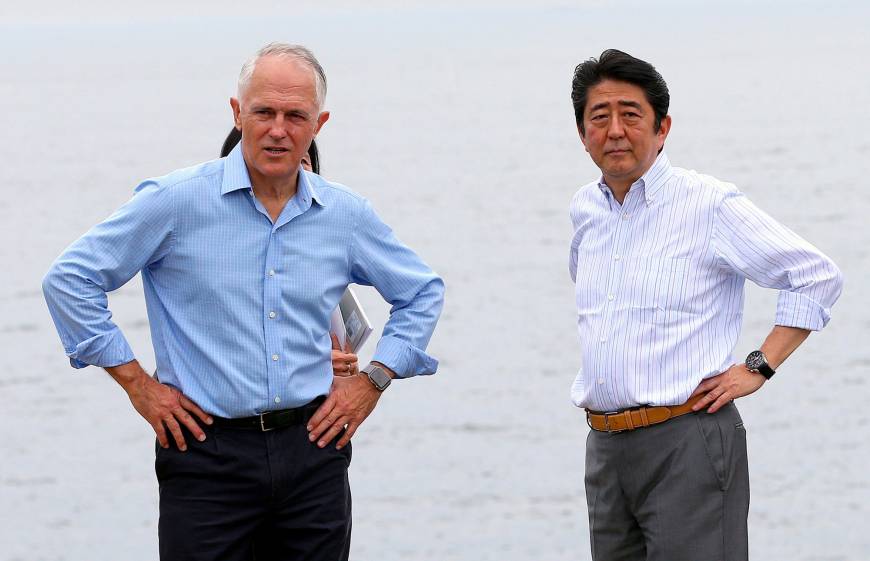 East Asia Forum | 17 January 2018
More to Australia–Japan security than bilateral defence ties
by Shiro Armstrong
Australian Prime Minister Malcolm Turnbull is visiting Japan today. Whatever else is said, at the top of the agenda in his discussions with Japanese Prime Minister Shinzo Abe will be managing relations with the United States and China. These are the superpowers that determine and underpin economic, political and national security for Australia and Japan in Asia.
Turnbull and Abe have persuaded the United States to buy an Indo-Pacific conception of the region as the theatre in which Washington should manage the superpower relationship. The Indo-Pacific appeals to US President Trump's focus on security issues while he handles trade and economic issues one-on-one. It entangles India in regional order building and attempts to redefine Asia's great power game.
There are two big risks with this strategy.
The first is that the Indo-Pacific morphs into the 'quad' (more formally known as the Quadrilateral Security Dialogue) between the four democracies of Australia, India, Japan and the United States. That could box China in and look like a containment strategy.
The second risk is that both countries take their eye off the immediate and dangerous threat to regional security: namely that Trump's America is tearing away the fabric that holds the region, its prosperity and its security together.
Trump's 'America First' agenda is being rolled out slowly and more effectively now that the administration is finding its feet after a year in office.
He pulled the United States out of the Trans-Pacific Partnership (TPP) economic agreement in his first days in office. That not only dealt a blow to Australia, Japan and other TPP members but also called into question US engagement in the Asia Pacific and its support for the global trade regime. The North American Free Trade Agreement (NAFTA) is on the skids as Canada launches a wide-ranging case against the United States in the World Trade Organization (WTO). Noise of US withdrawal from NAFTA is growing louder. The consequences of NAFTA's break up make those of a 'hard' Brexit look trivial and would shrink the North American economies with dire consequence for global trade.
All the while, US Trade Representative Robert Lighthizer is undermining the WTO and Trump's trade team has not lost sight of its biggest target — China. There's no knowing what Trump will do when he attends the Davos forum this month where leaders usually defend globalisation.
Australia, Japan, China and Asia rely on the global rules-based economic order for prosperity and security. The multilateral system underpins economic security globally, but this is especially true in Asia where it defines and enforces the rules that restrain larger countries from inflicting economic damage on others. Trade disputes, like that between Japan and China over rare earth metals in 2012, are settled peacefully in the WTO without resorting to retaliation, escalation or force. That function of the WTO is put at risk by Mr Lighthizer's blocking the appointment of WTO appellate judges.
Economic relations between Japan and China have prospered despite the ups and downs of political relations because both countries adhere to the rules. Economic relations would unravel all over Asia if confidence in the WTO was lost.
Abe and Turnbull have shown by salvaging the TPP without the United States that Australia and Japan can lead efforts to hold in check the worst instincts of the America First agenda. Australia led a push back against the United States in Vietnam to hold the line on APEC's stance on openness and multilateralism.
That was the phoney war; the real battle is yet to be engaged. Abe is a critical ally for Turnbull if this battle, which is far more important to regional security than bilateral defence ties, is to be won.
Abe needs Australia's active support in recognising East Asia's Regional Comprehensive Economic Partnership (RCEP) alongside the TPP-11 as important for protecting Asia Pacific security.
RCEP has strategic significance given it includes the large emerging market economies of China, India and Indonesia, as well as the rest of the ASEAN grouping, Australia, Japan, New Zealand and South Korea. The difficulties in concluding a credible RCEP agreement look less overwhelming when leaders in Tokyo, Beijing, Jakarta, Delhi and Canberra are persuaded of its globally strategic role.
As a 2017 study by Australia's Productivity Commission clearly showed, the RCEP grouping is large enough to generate benefits from liberalisation and avoid recession even if the rest of the world, including the United States and Europe, all raised tariffs by 15 per cent (a situation similar to the Great Depression). RCEP is large enough and important enough to serve as a critical line of defence in the battle to keep the global trading system open.
Abe has demonstrated deft diplomacy in dealing with Trump while he plays a nuanced game of laying the foundations for significantly improved relations with China. He enjoys a strong political majority and an economy undergoing a sustained recovery. Turnbull has been in political combat mode with a one-seat parliamentary majority but may have more bandwidth to lead in 2018.
The broad and deep Australia–Japan relationship has never been more important to both countries' interests in the world, and the close relationship between the two leaders can make a difference in preserving the rules-based order on which both countries rely.
There are also important issues for the two leaders to discuss in strengthening bilateral relations. Abe is embarking on a 100-Year Life Society economic reform program, which aims to improve access to early-childhood and university education as well as to manage an ageing and shrinking population. Australia would do well to share experience on these ambitions and get close to Japan's reform agenda for the strength it might add to it as well as for the business opportunities it will open.
Pre-Davos, the top priority is doubling down on global openness and leadership of a coalition to protect the global economic order. The rest is second-order business.
---