Moving forward in global trade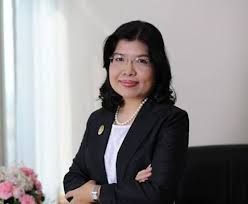 Bangkok Post | 16 February 2018
Moving forward in global trade
by Phusadee Arunmas
Thailand has entered into negotiations for a number of free trade agreements (FTA). Its first FTA was the Asean Free Trade Area, signed in 1992. The country has six FTAs with India, Australia, New Zealand, Japan, Peru and Chile.
As an Asean member country, Thailand also belongs to various regional FTAs, including one with Asean member countries, and separate FTAs between Asean member countries and China, Japan, South Korea, Australia-New Zealand, India and Hong Kong.
Asean member countries are negotiating several FTAs as well as the Regional Comprehensive Economic Partnership (RCEP) to further reduce trading costs and encourage trade within Asean and between Asean and other countries.
The Commerce Ministry estimates Thailand's trade value with partners that have FTAs has experienced staggering growth the last decade.
To continue that growth, the government is committed not only to settling FTA talks with more countries but also developing strategic partnerships with individual countries.
Auramon Supthaweethum, director-general of the Trade Negotiations Department, sat down with the Bangkok Post to talk about the latest FTA developments.
How many countries is Thailand engaged with in FTA talks?
Thailand has 13 FTAs in place, including the Asean-Hong Kong FTA and investment agreement signed last November and scheduled to take effect in January 2019.
We are proceeding with FTA talks with dialogue partners including Pakistan, Turkey and Sri Lanka. Thailand aims to settle talks in particular with Turkey and Pakistan within this year, starting from trade in goods. Thailand has held talks with Turkey twice and is scheduled to hold the third round of talks in Turkey next month. The two countries are engaged in the process of opinion exchange on tariff reduction schedule on goods. The talks are expected to be concluded this year to celebrate 60th year anniversary of Thailand-Turkey relations.
With Pakistan, Thailand has already held nine rounds of talks and is in the process of discussing the goods tariff reduction format. Up to 96% of talks have been competed, with only the tariff cut timetable and rule origin issues still pending.
Deputy Prime Minister Somkid Jatusripitak plans to sign an FTA with Sri Lanka, as he expects the South Asian country will become a key trading partner.
Sri Lanka is seen as an interesting market in South Asia, given its healthy economic growth average of 6.5% over the last five years, its strategic connectivity to China's One Belt One Road and FTAs signed with several South Asian nations such as India and Pakistan.
The negotiators have already completed an in-depth study of the Sri Lankan FTA. The Commerce Ministry needs to request cabinet approval before starting any talks with Sri Lanka. The talks are likely to start with trade in goods and may proceed in tandem with the strategic partnership talks. According to the preliminary survey, Sri Lanka desperately needs Thai investment in agro-industrial business, gems and jewellery, tourism, consumer products and electronics.
How is the Thailand-EU FTA progressing?
The negotiating authorities are preparing for talks with the EU after the bloc had agreed on Dec 11 to resume political contact "at all levels" with Thailand, more than three years after suspending them in protest of the military coup in Bangkok. Nonetheless, despite the EU suspension, authorities have not stopped monitoring EU trade development and trade agreement movements between EU and its dialogue partners over the last three years as well as the impact of Britain's exit from the bloc.
Based up on the department officials' discussions with individual EU members and private sector players from both EU and Thailand, all are in full support for the government to go ahead with FTA talks between Thailand and EU, starting from technical cooperation.
Negotiations for a Thai-EU FTA were formally launched on March 6, 2013. The goal was a comprehensive FTA covering tariffs, non-tariff barriers and other trade-related issues such as services, investment, procurement, intellectual property, regulatory issues, competition and sustainable development.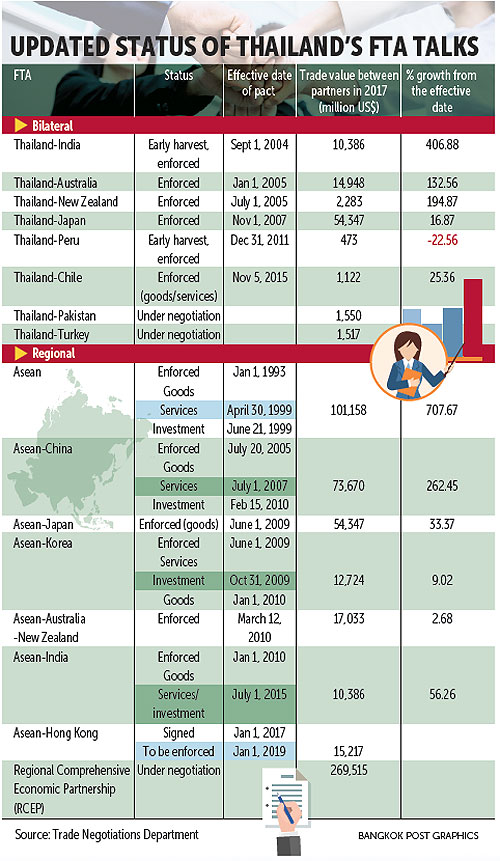 But the talks were suspended after the May 2014 coup.
In June 2015, the EU said it would delay signing an agreement on closer economic and political ties and demanded a swift return to democracy.
In 2016, the EU was Thailand's fourth-largest trading partner and ranked the second-largest investor here.
Two-way trade between Thailand and the EU totalled US$40.14 billion (1.26 trillion baht) in 2016, with Thai exports accounting for $22.05 billion and imports $18.09 billion.
EU investment in Thailand was estimated at $6.73 billion in 2016, with the top five investors being Germany, Britain, the Netherlands, France and Italy.
In preparation for the comprehensive FTA talks with the EU, the department has been preparing to hold bilateral talks with individual EU nations focusing on strategic partnership to expand trade and investment and increase export opportunities for Thailand products.
The first focus of the talks is France, where there is now close cooperation between Thailand's Joint Standing Committee on Commerce, Industry and Banking and France's Mouvement des Entreprises de France, the largest employer federation there that jointly holds the Thailand-France Business Forum every year.
A joint meeting for high-level economic dialogue is also held every year between Thailand and French officials.
More importantly, Thailand and France cooperate on transport and in the government's flagship Eastern Economic Corridor (EEC), where France's Airbus is also expected to invest.
Apart from France, the department is monitoring the Brexit transition talks between the UK and the EU before moving ahead with further FTA talks.
The UK is Thailand's 19th largest trading partner, which would make an FTA viable, especially given the long-term relationship between the two countries. However, we have to await the final outcome of Brexit before we can proceed on this.
In addition, the department is pursuing free trade talks with Russia under the aegis of the Eurasia Economic Union, which groups Russia, Armenia, Belarus, Kazakhstan and Kyrgyzstan.
By the middle of this year, Russia's deputy trade minister is also scheduled to lead the trade delegation to visit Thailand and scout the EEC for new investment opportunities. Businesses from Thailand and Russia are also keen to jointly invest in aviation, robotics, biotechnology and R&D in the EEC.
For countries that are not ready for FTAs, the department is ready to proceed with talks on a strategic partnership basis to bring about more trade and investment cooperation via various forums such as joint trade committee meetings.
How are the RCEP talks progressing?
The talks are a bit slow, slower than expected, as dialogue members have different levels of economic development. Developed countries such as Japan, South Korea, Australia, and New Zealand are especially interested in the liberation of trade in services and the movement of natural persons, while India is reluctant to open its market for goods.
Asean members last year reaffirmed cutting import tariffs to zero from 92% of products under the RCEP over the next 15 years. They also committed to waiving or cutting the tariff for the remaining 8% of products that are categorised as sensitive and highly sensitive to the least percentage rate in 20 years.
The Asean members also plan to push for the conclusion of negotiations this year.
The RCEP was launched in November 2012 with the aim of establishing deeper economic cooperation among the 10 Asean members and six trading partners: China, India, Japan, South Korea, Australia and New Zealand. The member countries represent 29% of global trade and GDP.
In 2016, Thailand's total trade value with RCEP countries amounted to $240 billion, accounting for 59.3% of Thailand's total trade value.
Thai exports to RCEP nations were valued at $120 billion, or 55.7% of total export value. Imports were worth $122 billion, accounting for 63.3% of total imports.
Thailand will benefit greatly if the RCEP is implemented, as it grants Thailand greater access to certain countries that still have relatively high import tariffs such as China, India and Japan.
What is the domestic working policy for the department this year?
The department this year will focus on holding public hearings in provincial areas to register the considerations of all stakeholders who may be affected by the FTAs and hear their grievances about trade obstacles and hardship.
The department through the Commerce Ministry will gather all viewpoints, particularly from farmers, local entrepreneurs and small firms that are available to submit to the government to help manifest an appropriate and immediate solution or measures to work with the private sector to alleviate their plight.
---