Nafta talks likely won't begin until later this year, Ross says
All the versions of this article: [English] [français]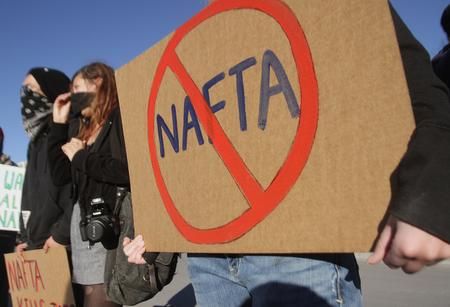 Bloomberg | 8 March 2017
Nafta talks likely won't begin until later this year, Ross says
The U.S. government probably won't begin "real" negotiations to revamp the North American Free Trade Agreement until later this year, Commerce Secretary Wilbur Ross said.
"I would like the results tomorrow, but that is not the way the world works," Ross said Wednesday in an interview with Bloomberg Television. He said it probably will be "the latter part of this year before real negotiations get under way."
Ross, who was sworn in last month as Commerce secretary, said he hopes the talks don't take "substantially longer than a year."
The secretary's comments come as U.S. partners in the agreement brace for negotiations that could grow contentious and even result in an end to one of the world's largest free-trade zones. Canada has called for talks to begin soon amid concerns that uncertainty over the outcome will stymie investments, while Mexico's government has already started discussing the deal with businesses that depend heavily on Nafta.
See how trade deals can take years to work out.
The Mexican peso has depreciated 6 percent since Donald Trump won the presidency as investors bet his pledge to narrow the U.S. trade deficit with its southern neighbor will hurt the economy. The peso was down 0.9 percent in early-morning trading on Wednesday, after a jobs report in the U.S. underscored expectations the Federal Reserve will raise interest rates this month. The Canadian dollar has weakened 0.9 percent since the U.S. election.
'Preliminary' Discussions
Ross said the Trump administration is having "preliminary" discussions with U.S. lawmakers about Nafta, but hasn't given Congress official notice that it will start negotiations. Under the law that hands the president so-called fast-track authority on trade pacts, Trump must give Congress 90-days' notice that he intends to revise an existing agreement. Before starting talks, he must lay out the administration's goals and consult with key committees in the House and Senate.
Any of the three Nafta participants can withdraw from the deal on six-months' notice. Trump has said he would pull out if his counterparts aren't willing to renegotiate a deal.
While Trump has given few details about exactly what he's seeking from a Nafta re-think, it could impact U.S. companies with production in Mexico including Ford Motor Co. and Whirlpool Corp. Trump has promised to renegotiate trade deals to protect American workers, putting "America First" in relations with other countries.
Ross said Wednesday the U.S. has been in a "trade war" for decades, without referring to a specific country. "The difference is our troops are now coming to the ramparts," he said in the interview.
However, he said the U.S. should have the leverage to avoid sustaining much damage.
"If people know you have the big bazooka, you probably don't have to use it," he said.
---