National politics put trade talks under pressure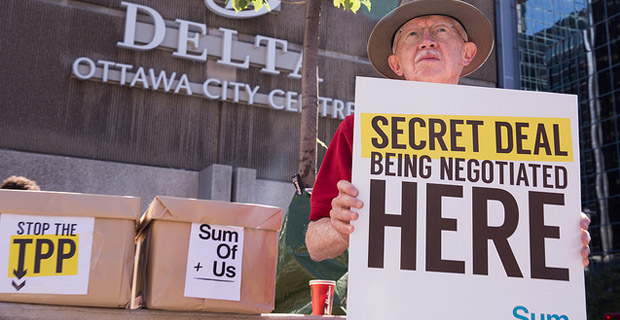 Nikkei Asian Review | 29 September 2015
National politics put trade talks under pressure
Ryohei Yasoshima
ATLANTA — While domestic political schedules are making it imperative for the U.S., Japan and Canada to wrap up a historic trans-Pacific trade pact, New Zealand and Mexico appear intent on prolonging the talks to extract the best concessions possible.
The 12 nations taking part in the Trans-Pacific Partnership are accelerating preparations for ministerial talks starting here Wednesday in hopes of striking a final deal.
U.S. President Barack Obama is making direct appeals, phoning Mexican and Peruvian leaders last week. Obama and Chilean President Michelle Bachelet agreed in a Sunday phone call "on the need for further progress in resolving remaining issues" related to the TPP, the White House said.
Electoral obstacles
The looming 2016 presidential election cycle is pushing the U.S. to achieve an agreement quickly. Many think major trade negotiations will be impossible after the beginning of next year. Eager to build a robust legacy, Obama wants to see ministers wrap up the talks in the upcoming meeting.
In Canada, the Oct. 19 election poses a far more immediate threat. Prime Minister Stephen Harper's government looks to fare poorly, fueling leaders' urgency to conclude TPP negotiations before the vote.
Yet Australia and New Zealand remain pitted against the North American neighbors in key areas. The U.S. wants the protection period for data on new pharmaceuticals to be as lengthy as possible, while Australia and New Zealand wish to keep that period short to speed the development of generic drugs.
New Zealand also is holding firm on its demands for expanded dairy exports to Canada, the U.S. and others — its stance unchanged from the last round of talks in Hawaii at the end of July. Trade Minister Tim Groser will attend the Atlanta talks only "if negotiators make sufficient progress resolving outstanding issues, including dairy market access, to warrant ministerial engagement," the government has said.
Dairy products comprise some 30% of New Zealand's exports, many of which go to China. Fears that the industry could be hurt by China's slowing economy are contributing to New Zealand's hard-line push for more open dairy markets in the 12 TPP nations.
Pushing toward a conclusion
Japan will pursue a broad agreement at the ministerial talks "with unwavering resolve," Chief Cabinet Secretary Yoshihide Suga told reporters Monday. As domestic politics in many nations threaten to sideline the TPP, fears are growing in Japanese government circles that "if this round of talks does not end in broad agreement, negotiations could slip away," a political leader said.
Yet Japan, too, faces deadlock with Mexico over place-of-origin rules involving cars. Many U.S., European and other automakers build vehicles in Mexico, giving them easy export access to the U.S. under the North American Free Trade Agreement. But Mexico fears that increased auto exports from Japan under the TPP could eat into that business, and therefore seeks rules to prevent vehicles consisting largely of components made in Thailand and other non-TPP nations from qualifying for reduced tariffs.
As elections loom, the U.S., Canada and Japan find themselves lacking the political will to make compromises during negotiations. In Japan, members of the dominant Liberal Democratic Party with ties to agriculture are particularly leery of the agreement.
If a deal is reached at this round of meetings, a bill for ratification and debate over related domestic policy changes likely will hit the Diet next spring or later. Many worry that discussion on the contentious trade pact could sway upper-house elections slated for summer. Some members have said they wish negotiations could be halted until after the elections.
The window for a deal is closing as the U.S. and Canadian election campaigns and other pressures emerge, Australian Trade Minister Andrew Robb said. But those factors "notwithstanding, a conclusion remains within imminent reach," he added. "There are unresolved issues, but hopefully these aren't intractable."
---