OMG! TTIP, JEFTA, CEPA are DOA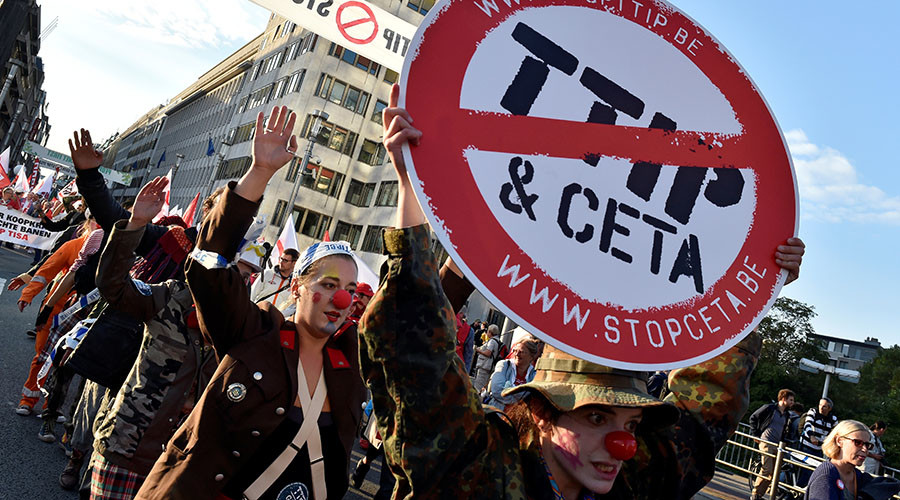 Politico | 4 May 2017
OMG! TTIP, JEFTA, CEPA are DOA
By HANS VON DER BURCHARD
Stop TTIP, JEFTA and CEPA.
The European Commission is changing its approach to trade deals after strong headwinds jeopardized agreements with the U.S. and Canada.
A lack of transparency was one of the culprits behind the collapse of a Transatlantic Trade and Investment Partnership, and the Comprehensive Economic Trade Agreement with Canada was salvaged only after the Commission sweated to get regional parliaments on board.
Now it's linguistic limbo the Commission wants to keep at bay: Trade negotiators, the Commission says, need to avoid toxic acronyms.
"Stop CETA" and "Stop TTIP" campaigns organized by NGOs mobilized more than 100,000 people last year at rallies across seven major German cities. Stickers appeared on lampposts across the Continent, and in London and Brussels, campaigners altered traffic lights to spell out their campaign message.
Commission President Jean-Claude Juncker's top aide Martin Selmayr this week acknowledged these abbreviations have no future. "President Juncker is an opponent of abbreviations, me personally too, and if you start a debate with such an abbreviation you have probably already lost," he told POLITICO's Morgen Europa event in Brussels on Wednesday.
Should the EU re-engage in trade talks with Washington — something Selmayr said he hopes will happen — "then it certainly won't be called TTIP," the powerful chief of staff suggested.
European Trade Commissioner Cecilia Malmström made a similar reflection during last year's crisis in which the Union nearly failed to ratify the EU-Canada agreement.
"We should have never called it CETA. Just EU-Canada trade agreement, nothing else," Malmström said. Acronyms have become "quite toxic" since trade-skeptic NGOs and campaigners seized on them to spur fears about trade deals, the commissioner said.
The Commission is stuck with CETA: The agreement with Canada has already been signed and is being ratified at the national level.
Learning its lesson

Brussels is already putting the new philosophy into action. The trade department's website on Indonesia shows that the Commission cautiously scrapped all references to the Comprehensive Economic Partnership Agreement, or CEPA, under negotiation with the country. The pithy acronym has been replaced by the "Free Trade Agreement between the European Union and Indonesia." Only permanent records such as photos in an External Action Service gallery reveal that CEPA used to be the acronym.
While the Commission uses the acronym ISDS to describe an investor-state arbitration system that it wants to abolish in trade agreements, it is careful to spell out its new alternative approach: the Investment Court System.
"It is definitely important to avoid using those abbreviations," said Juri Schnöller, co-founder of Cosmonauts & Kings, a Berlin-based startup for political communication and campaigning.
However, while the Commission has made a conscious effort to stop using acronyms, trade-critical NGOs have constructed their own to keep their campaigns rolling. Several groups refer to the EU-Japan trade agreement as JEFTA — an abbreviation that, they say, stands for the EU-Japan Deep and Comprehensive Free Trade Agreement.
"We have never used that acronym," a Commission official said.
Theresa Crysmann, media offer at the Brussels-based NGO Corporate Europe Observatory, said JEFTA was chosen after people began using it to tweet about the Japan deal, and it trended on the social network. "When you need to restrict yourself to 140 characters, JEFTA is much more useful than EU-Japan agreement," Crysmann said.
Schnöller said acronyms aren't the only problem.
"Just coming up with a different name won't solve the problem of skepticism toward trade agreements. What the EU needs is a campaign that communicates the goals, values and challenges that lie behind such deals," he said.
He recommended the Commission take steps to communicate "at eye-level" and create an internet platform for discussions with citizens that include video chats with negotiators "to create transparency and dispel concerns or myths."
As officials confine TTIP and CEPA to the Commission archives, Crysmann said: "The Commission's problem is not the use of acronyms, but its continuing disregard for people's serious concerns."
---