One day strike and Indigenous mobilizations in Colombia
National Union of Public and General Employees (Canada) | 22 October 2008
One day strike and Indigenous mobilizations in Colombia
Follows 6 weeks of strikes and Indigenous mobilizations across Colombia against regime's hard-line policies.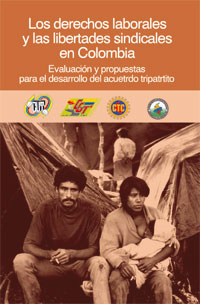 (22 Oct. 2008) — Colombia's Central Trade Union Federation (CUT) has responded to the growing crisis in Colombia by calling for a one-day national strike for Thursday, October 23rd. A solidarity picket is being held in Toronto on Thursday, October 23rd over the lunch period (12 - 1 pm) outside the Colombian Consulate at 1 Dundas Street West.
The action is in solidarity with a wave of striking workers. It is also in opposition to President Alvaro Uribe's recent declaration of a "state of internal commotion" (or state of emergency) which grants the president extraordinary powers to further repress and criminalize labour and social movements as 'threats to public order'.
Growing crisis in Colombia
This most recent desperate action by the right-wing Uribe government follows more than 6 weeks of strikes and nation-wide mobilizations of Indigenous people against the government's hard-line neo-liberal policies.
Labour actions include the strike of more than 9,000 sugar cane cutters in the Cauca Valley region - the centre of the country's multi-million sugar and ethanol biofuel industry. The cane cutters demands include a living wage, direct employment contracts (instead of subcontracting through "associated cooperatives"), the right to receive social benefits and recognition of their right to unionize. Colombia's sugar barons have refused to negotiate with the workers. The government has assisted the employers by attacking strikers' rallies with anti-riot squad violence.
In addition, thirty-two thousand public sector court workers were on strike demanding improved wages and the independence of the judiciary from the executive branch of government. After 42 days on strike the workers, through their union ASONAL, forced the government to negotiate a tentative deal on October 20th.
Nation-wide Indigenous people protest Free Trade Agreement
Heightening the growing opposition in the country has been nation-wide mobilizations by Colombia's Indigenous population that began on October 12th. These protests and actions have been harshly repressed by government anti-riot squads.
In the Cauca region, a twelve-thousand strong Indigenous and Popular Minga (or Assembly) was held in opposition to the militarization of Indigenous, Afro-Colombian and peasant communities/territories. The Assembly also declared it's firm opposition to the Free Trade Agreements (FTAs) with Canada, U.S. and the European Union.
Estimates are that, to date, more than 100 Indigenous activists in Cauca have been seriously injured, at least three have been killed, and others have disappeared likely due to direct government repression or collusion.
On October 20th Cauca's Indigenous communities and their allies started a three-day walk to the city of Cali to continue pressing their demands.
Canadian activists respond to crisis
Across Canada trade union and social justice activists have responded to the crisis in Colombia by organizing solidarity demonstrations and writing to elected leaders. NUPGE
More information: Colombia: the struggle for peace and justice
---