Ottawa mise sur un accord global avec la Chine
All the versions of this article: [English] [français]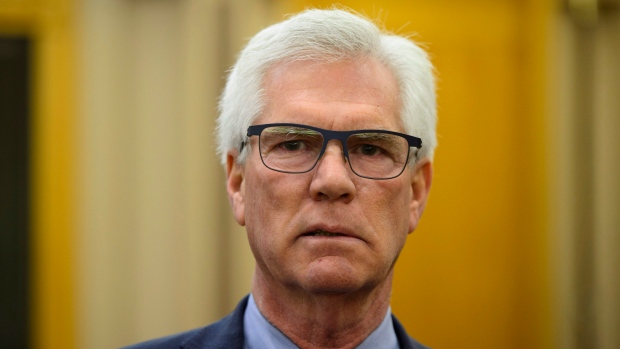 La Presse | 12 novembre 2018
Ottawa mise sur un accord global avec la Chine
by The Canadian Press
OTTAWA — Le Canada espère toujours conclure avec la Chine un accord commercial global, même si Ottawa évoquait plutôt la semaine dernière la conclusion plus rapide d'ententes sectorielles.
À l'issue de rencontres économiques bilatérales, à Pékin, le ministre canadien de la Diversification du commerce international, Jim Carr, a déclaré lundi que la Chine s'intéressait à une vaste gamme de produits canadiens dans de nombreux secteurs.
M. Carr a toutefois ajouté que même si le Canada était en pourparlers sur plusieurs fronts avec la Chine, les efforts visant à promouvoir des accords sectoriels n'empêcheraient pas la possibilité d'un accord commercial plus large. Selon le ministre, l'intérêt manifesté par la Chine pour un si grand nombre de produits canadiens pourrait éventuellement déboucher sur un accord commercial global.
La semaine dernière, le président du Conseil du Trésor, Scott Brison, déclarait au quotidien The Globe and Mail que pour avancer plus rapidement dans les relations commerciales avec la Chine, il valait mieux se concentrer sur les possibilités de gains immédiats grâce à une approche sectorielle dans des domaines tels que l'alimentation et l'agriculture.
Un certain nombre de fonctionnaires fédéraux et provinciaux se sont rendus en Chine au cours de la semaine dernière pour discuter de commerce. Ces discussions font suite aux efforts d'Ottawa pour amorcer officiellement des négociations de libre-échange avec la Chine, qui se sont enlisées à cause de divergences sur l'égalité des sexes, les normes du travail et les droits des peuples autochtones.
Le ministre des Finances, Bill Morneau, a aussi participé à Pékin à ce « dialogue stratégique économique et financier entre le Canada et la Chine ».
---