Pakistan seeks rejig of economic corridor, trade pact with China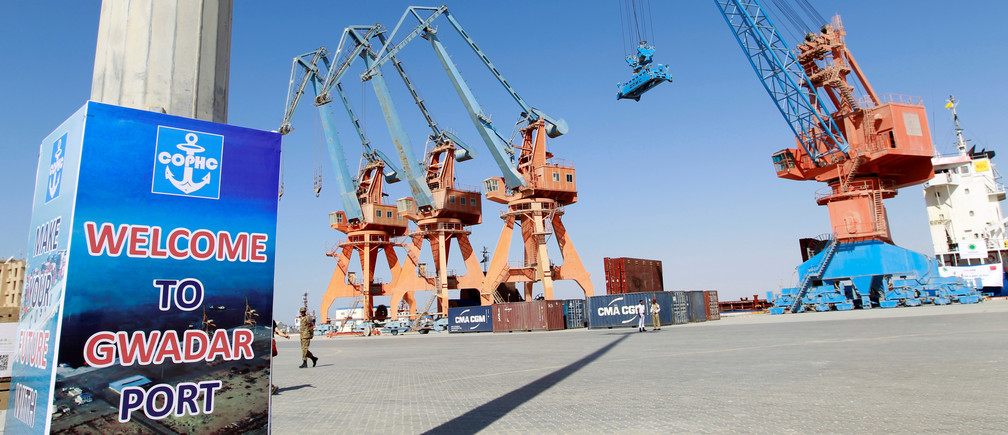 Asia Times | 12 September 2018
Pakistan seeks rejig of economic corridor, trade pact with China
By Kunwar Khuldune Shahid
Chinese Foreign Minister Wang Yi landed in Islamabad for a three-day visit last Friday to discuss a wide range of subjects central to bilateral ties between two countries. Over the three days, Wang Yi met with Prime Minister Imran Khan, President Arif Alvi, Army Chief Gen Qamar Javed Bajwa and Foreign Minister Shah Mehmood Qureshi, among other officials.
Government officials confirmed that all talks were dominated by the China Pakistan Economic Corridor (CPEC) with various aspects of the project discussed.
"An important consensus with the Pakistani side has been reached to accelerate CPEC construction and the achievements by both sides in promoting the plan are obvious to all," Chinese Foreign Ministry spokesperson Geng Shuang said in a statement released on Monday.
The statement comes after the newly elected Pakistan Tehrik-e-Insaf (PTI) government successfully convinced the Chinese contingent to renegotiate terms of the economic corridor, well-placed sources said.
"The new leadership feels that the terms agreed by the previous government were heavily tilted in China's favor and they want to review that," a government official told Asia Times. "The concerns were shared with Mr Wang Yi and his team, and the new plans are under discussion, which would be acceptable to both parties."
Bid to renegotiate FTA as well as CPEC deals
Insiders reveal that in addition to CPEC contracts, Islamabad has also expressed a desire to renegotiate the Free Trade Agreement (FTA) with Beijing, Phase II of which has been under negotiation for the past six years, with Pakistan seeking to increase its exports to China.
Also discussed was the transparency of the CPEC deals, with Finance Minister Asad Umar having long been a critic of how the terms agreed by the Pakistan Muslim League-Nawaz (PML-N) government weren't shared with the public. This prompted concerns of Chinese hegemony over domestic policymaking for Islamabad, which critics argue could severely dampen economic growth in Pakistan.
Sources within the Finance Ministry revealed that Asad Umar wasn't trying to cancel certain CPEC related agreements, as was reported in local media, but was only looking to get the best deal out of the economic corridor and the FTA.
Umar also wanted to avoid going to the International Monetary Fund (IMF) for another bailout package, which economic analysts maintain is only possible if agreements with China are revised and massive loans are agreed.
While the meetings with Wang Yi suggest Beijing would consider the revisions, given the larger benefits for China, the Khan government is planning to build up pressure domestically against their predecessors for signing agreements that weren't in the country's best interests.
However, the PML-N's outgoing finance minister Miftah Ismail said generalizing CPEC agreements as unfair or against Pakistan was not accurate.
"If [the new government] has an issue with any specific agreement they can address it. But if we annul agreements, what sanctity of the Pakistan government would remain? That would be a hit on Pakistan's sovereign guarantee and hurt the credibility of the government of Pakistan," he said.
Among objections raised against the CPEC agreements were the tax exemptions for many Chinese companies. Ismail confirmed that was the case and conceded that lack of transparency of the deals had generated uncertainty with regard to CPEC. However, the former finance minister said that taxing the Chinese firms wouldn't make much difference.
"In the agreement with the IPPs [Independent Power Producers] it's written that whatever tax they pay to the Pakistani government they can pass on in their tariff. So, even if you add taxes they'd just be added to the tariff, as per the 1994 policy. If you have given CPEC companies tax-free access – which is true – then obviously once you add the tax, the bid would change," Ismail said.
No harm in reviewing projects: Shah
But former caretaker finance minister Salman Shah disagreed, saying revisiting agreements with Beijing would not affect Islamabad's credibility as Pakistan had a "very special relationship with China".
"It's normal for a new government to look into such projects and determine which ones are sustainable and which can be improved. I don't see any harm in reviewing them, especially in view of the debt that is being incurred and the sustainability of that debt," he said.
Shah believed any revision of CPEC agreements should focus on the power sector. "Most of the investment is there and is questionable in terms of its viability. [But] the power is very expensive, and if that can be addressed then the Pakistani commercial, industrial and domestic sectors would feel that the power projects have been worthwhile.
"Also, we should look into the FTA and get more out of CPEC in terms of trade with China so that the debt can be serviced through our exports into the great Chinese market. This would further cement ties with China, whom we should get into a customs union with, on the lines of the customs union that Turkey has with Europe."
---