Protest condemning free trade agreement between India and US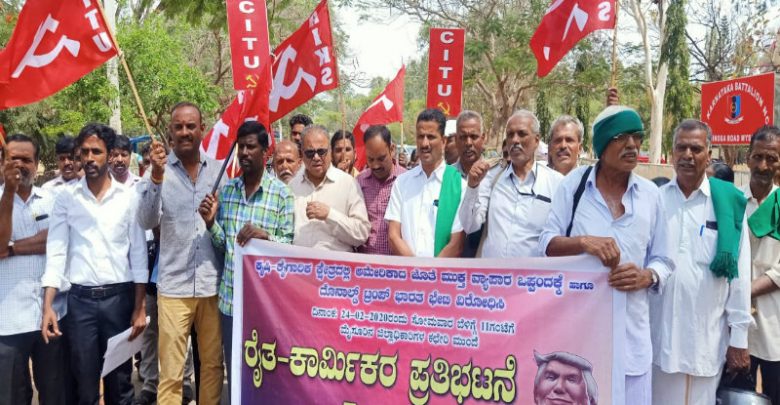 City Today | 24 February 2020
Protest condemning free trade agreement between India and US
Mysuru, February 24:- Karnataka Rajya Raitha Sangha, Hasiru Sene and Centre of Indian Trade Union staged a protest on Monday, condemning the free trade agreement between India and United States of America in the fields of animal husbandry, poultry and other sectors.
The protesters, who were protesting near the deputy commissioner's (DC) office here, said that the free trade agreement would import products worth Rs 42,000 crore every year and will adversely affect farmers and people who are depending upon animal husbandry. They said that bringing down import tax on apple, cherry, badam, soya been, wheat, corn from 100% to 10% would affect the Indian farmers. They alleged that this trade agreement would be dangerous than the earlier proposed RCP agreement.
"10 crore families are depending upon animal husbandry in India. The cooperative milk federation used to provide 71% of the profit to the farmers and the reduction in import tax on the milk products of the US will destroy milk producers in India. Poultry products from the US making way to India will be extremely harmful to Indian poultry farming. Signing trade treaty with the US will harm the farmers and daily wage labourers. Prime Minister Narendra Modi is making it happen by opening the Indian economy for America. The central government should take back this proposal," they said.
Hosakote Basavaraj, Jagadish, Chikkanne Gowda, Jayaram, K Basavaraj, Rajendra, Mulluru Mahadev, Chowdamma and others were present. (MR/KS)
---