Protesters battle hail and TPPA talks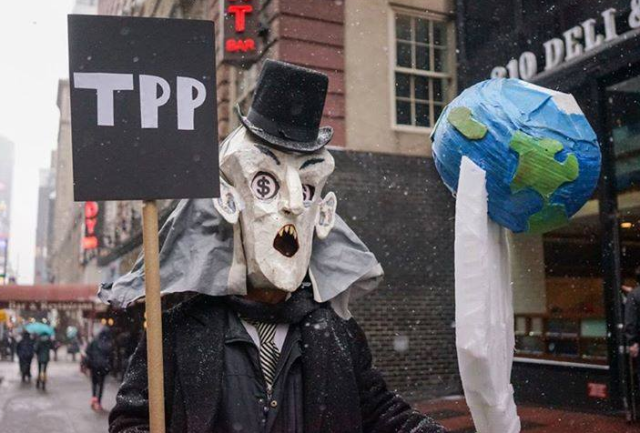 Wanganui Chronicle | 10 August 2015
Protesters battle hail and TPPA talks
Melissa Wishart
"We don't care about rain and hail, TPPA will not prevail," rallygoers chanted on Saturday as they marched to Majestic Square.
About 200 people braved the unpredictable weather to join the anti-Trans-Pacific Partnership Agreement (TPPA) march and rally, organiser Denise Lockett said.
She and co-organiser Chris Cooper arranged speakers such as Te Oranganui Iwi Health Authority's Nancy Tuaine, Phil Rewiti, Nelson Lebo, Deputy Mayor Hamish McDouall, and David Hughes to address the public and gathered members of TPPA Action Whanganui on the controversial trade deal.
The details of the deal, involving 12 countries, including New Zealand and the United States, have been kept behind closed doors.
"It went from sunshine to rain to hail. They marched in the hail, the dear, sweet people," Ms Lockett said.
"They even did an off-the-cuff chant on the way down."
The group dropped to about 150 people as they gathered in the square and some found the weather to be too much, but Ms Lockett said the rally was still a success.
"One woman said to me: 'I hadn't realised ... I've been out of touch for so long'. She said, 'You inspired me. I've gone away inspired'. So that was tremendous."
The weekend's speakers touched on how the TPPA could affect democracy and sovereignty, the issues of safeguarding food supply, corporate and banking activities, maintaining Pharmac's ability to provide affordable medicine and the privatisation of health services.
"I would say the mood was betrayed. Disappointed. In fact, at some times there seemed to be disbelief at what seems to be going on."
The rally lasted for about an hour-and-a-half.
"When you hand over power to corporations who have no care other than to make money, everything else goes by the wayside," Ms Lockett said.
She said there was a risk of stores such as Walmart setting up in New Zealand, and smaller businesses being unable to compete with them.
"The Government doesn't have to disclose the full content. When they've got good news it leaks.
"They're out there trumpeting all over the country - but they're not doing that."
---