Rally against TPP negotiations planned July 29 on Kāʻanapali Beach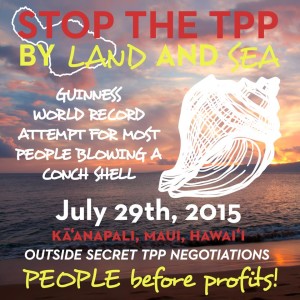 Maui Now | July 27, 2015
Rally against TPP negotiations planned July 29 on Kāʻanapali Beach
By Maui Now Staff
A coalition of advocates for the environment, labor, health and native Hawaiians will gather on Kāʻanapali Beach near the Westin on Wednesday, July 29, to speak out against negotiations involving the Trans-Pacific Partnership.
As part of the demonstration, the group will attempt to break the Guinness World Record for beach conch shell blowing, as they attempt to bring attention to the TPP negotiations that are taking place in Kāʻanapli on Maui.
The United States is hosting a meeting of the Trans-Pacific Partnership or TPP Trade Ministers on Maui from July 28-31, preceded by a meeting of TPP Chief Negotiators from July 24-27.
Demonstration organizers say the July 29 rally is timed near the anniversary of the Restoration Day for Hawaiian sovereignty, and seeks to call attention to the alleged harms to indigenous rights, worker abuses, and environmental health "in order to enrich a few major corporations."
"The TPP is a threat to our sovereignty as Native Hawaiians, and as human beings," said Kaleikoa Kaʻeo, professor of Hawaiian Studies at the University of Hawaiʻi Maui College. "This secret trade agreement would allow corporations to control decisions about how we live without any accountability to us, the people of this land. We call on everyone who cares about the environment, public health, jobs, and basic human rights for Hawaiians and all people to join us on Wednesday for a gathering on Kāʻanapali Beach."
Event participants are gathering noon for speeches, performances, and preparation for the world-record attempt later in the day at 5 p.m., when participants will attempt to break the world record for the largest number of conch shell (pū) blown at one time.
"We chose the pū for this demonstration because in ancient times the sound of the pū was a call to attention; a kahea (call) to recognize something important is about to occur. Today is a call to attention, to join together against this attempt to put profits over people," said Trinette Furtado, one of the event organizers.
"This event calls attention to all struggles against entitled behavior across the globe. We send this kāhea of the pū out past this hotel and the secret TPP negotiations, and out into the ocean, through the mountains, around the world. People are awakening, discovering their power. They are hungry to effect a positive change in the world," said Furtado.
Event organizers claim the Investor-State Dispute Settlement clause of the trade agreement "would allow corporations to sue signatory countries for the loss of anticipated profits as a result of local laws established to protect the environment, food safety, public health, or human rights, among other things." In addition, the group claims the TPP "would extend patent claims held by large pharmaceutical companies, making access to affordable generic medicines very difficult."
"Workers around the world recognize that the TPP will drive down wages, undermine living standards, and make it impossible to protect high quality, good paying jobs for local workers," said Cade Watanabe of UniteHere! LOCAL 5, a union representing hotel and hospital workers in Hawaiʻi. "It is out of respect for Hawaiʻi's land, its labor and its people, that we are standing up in opposition to the TPP."
The TPP is a trade pact negotiated between 12 nations around the Pacific Rim and 600 corporations. The 12 countries include: the United States, Australia, Brunei, Chile, Japan, Malaysia, New Zealand, Peru, Singapore, Vietnam, Canada, and Mexico. The list of corporations include: Walmart, Monsanto, Pfizer, Chevron, Exxon Mobil, and Dow Chemical.
"Hawaiʻi is one of the most uniquely beautiful places on the planet. To protect this amazing natural beauty, Hawaiʻi has some of the strongest environmental laws on the planet. But if the TPP is adopted, these protections would be gutted," said Marti Townsend, Sierra Club of Hawaiʻi Director in an event announcement. "The TPP is a fundamental threat to our clean water, fresh air, and fruitful lands. It would set-back our progress on clean energy and do nothing to prevent environmental degradation across the Pacific region," she said.
According to the Office of the US Trade Representative, "Hawaiʻi's goods exports in 2013 totaled $598 million. Hawaiʻi exported $438 million annually in goods to all TPP markets (2011-2013 average). During this period, 59% of Hawaiʻi's total goods exports went to the entire TPP region. The top three product categories exported to TPP-member economies in 2013 were transportation equipment, processed foods, and petroleum and coal products."
The office claims that the TTP would benefit Hawaiʻi's labor force, sustain hundreds of Hawaiʻi businesses, benefit small and medium-sized firms and expand market access to the islands.
The Office of the US Trade Representative says the Trans-Pacific Partnership "offers tremendous opportunities for US exporters with members comprising a population of roughly 800 million, and generate nearly 40% of global GDP. "The United States already has strong trade and investment ties to this region; we exported $697.8 billion in goods to all TPP markets in 2013, or about 44% of total US exports, and are seeking through TPP to further deepen our economic relations," according to information published on the agency website.
Human rights and environmental watchdogs protest the trade deal's provisions saying they allow corporations to sue governments over loss of expected profit. Protestors say they stand for the protection of public health laws, safeguards against pollution, labor rights, patent policies that insure affordable medicine, and other public interest policies.
The organizations participating in the demonstration in opposition to the TPP include: Kākoʻo Haleakalā; AiKea; Hawaiʻi SEED; Hawaiʻi Alliance for Progressive Action (H.A.P.A); Babes Against Biotech; UNITE HERE! Local 5; Pacific Alliance to Stop Slavery ; ʻOhana o Kauaʻi; KAHEA: Hawaiian-Environmental Alliance; Occupy Wall Street Maui; Sierra Club; Public Citizen; Flush the TPP; Friends of the Earth; Popular Resistance; MoveOn; CREDO; and SumOfUs.
Wednesday's (July 29, 2015) schedule of events include the following:
12 p.m. Participants gather
2 p.m. Press conference
5 p.m. World-record attempt for most conch shells blown at one time
---