RCEP agreement no guarantee of increased Australian exports to ASEAN countries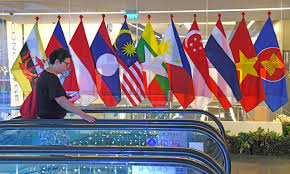 Future Directions International - 06 November 2019
RCEP agreement no guarantee of increased Australian exports to ASEAN countries
By Jarryd de Haan
Background
Thailand hosted the 35th Association of South-East Asian Nations (ASEAN) Summit in Bangkok on 2-4 November. Leaders and representatives from all ten member states and from additional countries, such as Australia, attended a number of meetings, including the third Regional Comprehensive Economic Partnership (RCEP) meeting. Despite earlier commitments to conclude RCEP negotiations by the end of this year, the attending members failed to sign the agreement. A statement released after the meeting was optimistic that the few outstanding issues blocking the agreement should be resolved by February 2020. Since India decided to pull out of the agreement, due to concerns about the effect of Chinese exports on India's economy, that deadline looks more likely.
Comment
The RCEP is a regional free-trade agreement which involves the ten members of ASEAN, as well as Australia, New Zealand, China, Japan and South Korea. Negotiations for that treaty were initially launched in November 2012, but have been held up by a number of roadblocks, including concerns from some member countries that without proper market restrictions, Indian and Chinese products could flood some markets and hurt ASEAN industries.
Simon Birmingham, Australia's Trade Minister, who was at the latest round of negotiations, outlined the benefits of the trade agreement to Australia in a press release one day before the meeting:
RCEP has the potential to boost export opportunities for Australian businesses as well as further integrate regional markets and lower trade barriers… Reflecting our Government's commitment to trade outcomes that grow exports and create more jobs, trade agreements such as RCEP are a vital part of our plan to ensure that around 90 per cent of Australia's trade is covered by free trade agreements (FTA) by 2022.
Birmingham also noted that the countries involved in the agreement include ten of Australia's top fifteen trading partners. It appears that from Canberra's perspective, the primary incentive for joining the agreement is to bolster exports.
It is likely that the Australian Government will be seeking to secure stable markets for its wheat exports through the RCEP. Wheat is one of the top three export products to ASEAN members, along with crude petroleum and coal. Unlike petroleum and coal, however, international demand for Australian wheat has collapsed to a near fifty-year low. Demand has fallen especially in South-East Asia, due to lower protein levels that fall short of the standards wanted by noodle makers, while the price has remained high. While the RCEP may help facilitate exports of Australian wheat, more work will still be needed to make the product attractive in the ASEAN market.
It is unclear how successful the agreement will be in boosting exports of Australian merchandise overall. Before pulling out, India was the only country taking part in the negotiations with which Australia had not already signed a Free Trade Agreement. The majority of countries involved in the RCEP, are already parties to another multi-country trade agreement, the ASEAN-Australia-New Zealand FTA (AANZFTA).
Looking at Australian exports to countries with which it has signed Free Trade Agreements, there is no record of significant increases in exports resulting from those agreements. Comparing the average export growth rate in the five-year periods before and after earlier FTAs came into force, the average growth rate increased by only 0.27% (excluding Chile, where the export growth rate increased by 11%). Those statistics contradict a finding by the Asia-Pacific Economic Cooperation Policy Support Unit that 'average exports five years after an FTA is enforced, are higher and [more] statistically significant, vis-à-vis the average exports five years before'. [1]
That being said, RCEP is a comprehensive economic partnership and not just a free trade agreement. According to the Australian Department of Foreign Affairs and Trade, the RCEP will establish a common set of trade and investment rules between the parties in addition to freeing up trade. In the short- and medium- terms, however, it seems unlikely that those additional rules will facilitate any significant increase in Australian exports to ASEAN.
Footnotes:
[1] Pasadilla, G., San Andres, E.A., Wirjo, A. and Hernando, R.C., 'Key Trends and Developments Relating to Trade and Investment Measures and their Impact on the APEC Region: Do FTAs Matter for Trade?', Asia-Pacific Economic Cooperation Policy Support Unit, May 2015.
---