RCEP freeze continues, India, Japan make no progress on sticky bilateral issues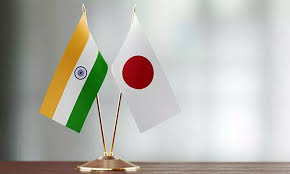 The Print - 1 December 2019
RCEP freeze continues, India, Japan make no progress on sticky bilateral issues
By Nayanima Basu
Both countries failed to make headway mainly on a breakthrough in the civil nuclear deal, acquisition of Amphibious aircraft and progress in the bullet train project.
India and Japan did not make any tangible progress on some of the sticky issues facing both sides, mainly on a breakthrough in the civil nuclear deal, acquisition of Amphibious aircraft or progress in the bullet train project in the first round of 2+2 format talks Friday.
Speaking to reporters a day after the inaugural 2+2 meeting between India and Japan concluded, Kaifu Atsushi, Deputy Press Secretary and Deputy Director-General for Press and Public Diplomacy at Japan's Ministry of Foreign Affairs said there was no progress on India's plan to buy the 12 ShinMaywa US-2i amphibious and rescue aircraft as part of a $1.65-billion Indian Navy deal with Japan.
However, Kaifu Sunday said the talks are still on to fructify the deal. The negotiations for procuring the amphibious aircraft from Japan have been going on since 2011. They got a fresh lease of life when Prime Minister Narendra Modi visited Japan for the first time after taking over in 2014.
India and Japan are also facing issues in finalising a civil nuclear deal. While the agreement came into force in 2017, the commercial talks are stuck over India's nuclear liability law in the event of an accident, a particularly sensitive issue in Japan.
Kaifu said both sides did not have any update to share on the civil nuclear deal, although a joint working committee has been set up to meet on a regular basis.
India and Japan held their first round of 2+2 talks between foreign and defence ministers S. Jaishankar and Rajnath Singh respectively with their Japanese counterparts Toshimitsu Motegi and Taro Kono. A parallel Japan-India Foreign Ministers' Strategic Dialogue also took place. Both the meetings concluded late Friday evening.
India is the seventh country with which Japan has established 2+2 talks, while New Delhi holds such talks only with the US.
RCEP talks also remain in freeze
Tokyo was not successful in convincing New Delhi to come back to the negotiating table for the ASEAN-led mega-trade pact — Regional Comprehensive Economic Partnership (RCEP). In early November, India walked out of the RCEP talks citing concerns over its demands not being met.
According to Kaifu, the issue did come up for discussion during the meetings but there was no headway that was made. He also reiterated that Japan continues to remain in the talks and will work towards convincing India in being a party to the 16-member agreement.
He even denied media reports that Japan will not sign the RCEP without India.
RCEP is a proposed free trade agreement (FTA) between the 10 member states of the ASEAN — Brunei, Cambodia, Indonesia, Laos, Malaysia, Myanmar, the Philippines, Singapore, Thailand, Vietnam — and its six FTA partners, China, Japan, India, South Korea, Australia and New Zealand.
'China should follow rules'
Stressing on the need for a "free, open, rules-based and inclusive" Indo-Pacific, Japan is believed to have informed China that it has to follow international maritime rules when it comes to the South China Sea or the East China Sea.
"Japan and China bilateral relations are back on normal track. But we do not compromise anywhere when it comes to principal issues such as maritime and security issues," Kaifu said. "It is important for us to reach out to and engage with China for them to follow international issues."
During the 2+2 meeting, India and Japan reiterated their commitment to advancing bilateral security cooperation based on the 2008 Joint Declaration on Security Cooperation and the 2009 Action Plan to advance Security Cooperation, stated the joint statement that was issued after the meeting.
Both sides also reiterated their stance on combating and countering terrorist networks operating out of Pakistan and called upon the country to take "resolute and irreversible action against them", and comply with international commitments including to Paris-based Financial Action Task Force (FATF).
---