RCEP: Members worried about giving more market access to Chinese goods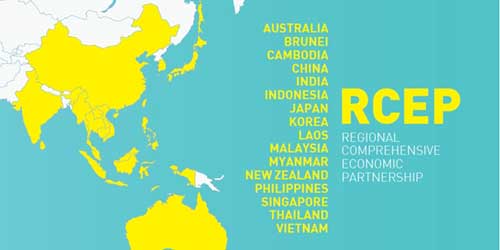 The Hindu | 1 November 2016
RCEP: Members worried about giving more market access to Chinese goods
RCEP is the proposed mega-regional Free Trade Agreement (FTA) between 16 Asia-Pacific countries including India, China, Japan, South Korea, Australia, New Zealand and the 10-member ASEAN bloc. Trade ministers of these countries are slated to meet on November 3-4 at Cebu, Philippines to take forward the FTA negotiations.
The proposed FTA, which aims to open up trade in goods and services as well as liberalise investment policies, will cover a market of over three billion people in these countries — whose total GDP is more than $17 trillion and account for 40 per cent of world trade.
Indian government sources said it was not just India, but all the other countries in the RCEP grouping are also worried about agreeing to eliminate tariffs altogether — a move that will mainly help China.
The sources said the concerns of these RCEP countries also stem from fears of China dumping its excess capacity in several items including steel, as well as highly subsidised items, thereby harming the local industry in the importing countries and distorting trade in the process. They said the RCEP negotiation process, which had begun three years ago, is unlikely to be concluded by this year-end as earlier thought due to the prevailing difficulties in successfully concluding the talks.
Two-tier versus three-tier
The sources said India could put forward a two-tier proposal on goods that will treat China differently from the remaining RCEP countries. When compared to the treatment for other RCEP nations, this proposal on China will include a larger negative list (goods that will be protected from tariff cuts), and longer time-frame for reducing / eliminating tariffs on the remaining goods.
This proposal will be different from the initial proposal of a three-tier system with a greater coverage of goods for the ASEAN bloc (with an 80 per cent threshold — that included a combination of percentage of tariff lines and that of total RCEP imports), slightly lesser for Japan & Korea (65 per cent threshold) and the least for China, Australia and New Zealand (42.5 per cent threshold).
Expressing concerns over the "lack of progress" in talks to liberalise services trade, the sources said India is of the view that any concessions for opening up goods trade can be finalised only if there are equivalent gains for it in services market access.
Single undertaking
The sources said the ministerial meeting is likely to see an agreement on explicitly incorporating the principle of 'Single Undertaking' in the final ministerial declaration. According to the principle, each aspect of the negotiation, including on goods, services and investment, "is part of a whole and indivisible package and cannot be agreed separately," and that "nothing is agreed until everything is agreed".
This principle is important for India as there are apprehensions that negotiation on opening up services is progressing at a much slower rate than talks on liberalising goods trade. Greater market access in services is of interest to India as it is a leading services supplier. India, with many infant industries, is mainly defensive when it comes to eliminating tariffs and opening up goods trade.
Opposition on services
Meanwhile, ASEAN countries led by Singapore have opposed India's push for 'greater ambition' in services – meaning opening up more services sectors in various modes including 'cross border trade', 'consumption abroad' (eg: tourism and medical treatment), 'commercial presence of a service supplier' and temporary movement of skilled workers overseas for work. Owing to this development, India and Singapore are likely to hold a separate bilateral meeting to sort out differences, the sources said.
Regressive position
On negotiations regarding 'investment', members, including India, have expressed concerns over New Zealand's stance on not committing to provide automatic approval in the future for investments up to NZD 100 million, which is the current ceiling there for clearance without government approval. According to the sources, New Zealand, as part of the RCEP, has offered its commitment to give automatic approval for investments of only up to NZD 10 million — which they termed as a 'regressive stance' that can adversely impact the RCEP talks.
The sources also said all members, however, are in agreement over avoiding Investor-State Dispute Settlement clauses in the final pact due to apprehensions that such clauses will help private investors to easily drag governments to international arbitration tribunals and claim huge amounts as compensation for any 'losses' they suffer including due to policy
---