Red meat quotas a likely sticking point when NZ-EU FTA talks get underway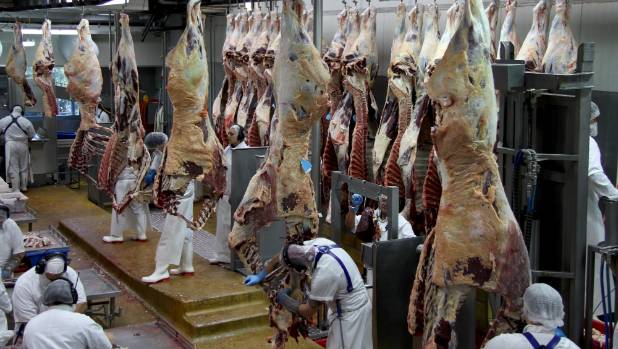 Stuff | 19 June 2018
Red meat quotas a likely sticking point when NZ-EU FTA talks get underway
by GERALD PIDDOCK
Agricultural exports into Europe look set to be a hurdle facing New Zealand diplomats when negotiations for free trade agreements with the European Union and Great Britain get started.
The first round of negotiations for a FTA with the EU is set to begin in July with EU Trade commissioner Cecilia Malmstrom​ arriving soon to formally launch them.
Ministry of Foreign Affairs and Trade European division director Rob Taylor said the negotiations were a huge milestone.
"We are telling the Europeans that we can produce a really top rate trade agreement and we can do it quickly," said Taylor at a Brexit seminar at Fieldays last week.
Much of the FTA was already agreed apart from agriculture, Taylor said.
"And that's the same with the UK FTA. We believe we have a really good story to tell in agriculture - our story is we're not a threat to the EU - nor are we a threat to the UK, there's lots we can do together."
One negotiation roadblock could be New Zealand's red meat export quotas for the EU including Great Britain.
The quota stood at just over 228,000 tonnes of New Zealand sheepmeat and goatmeat.
Taylor said talk from Europe of splitting that quota between the UK and EU was unacceptable.
"We think that's going to deprive us of a market share, it also removes the flexibility that our exporters have enjoyed into both the EU and the UK since those quotas were first established."
The EU and the UK had to keep honouring the obligations, he said.
New Zealand Trade and Enterprise board member Charles Finny told the audience the quotas had to be maintained and were legally binding.
"No way are we going to split those quotas," he said.
British High Commissioner Laura Clarke said her government was aware it was an issue and it was complex.
"Our starting point is that New Zealand should not be worse off because of this."
While the UK is scheduled to leave the EU in March next year, there was an implementation period that lasted until 2020. That gave the UK time to work through all of the issues it faced.
Clarke said the UK government was looking at both bilateral and multilateral FTAs.
"We are looking at all options for our future trade."
Clarke said there was clear need for agricultural reform in the UK, which signalled a reduction in funding for the government's farm support programme.
As a result, the UK was interested in New Zealand's experiences in dealing with its own reforms in the 1980s.
New Zealand special agricultural trade envoy Mike Petersen said UK farmers faced a different situation to New Zealanders in the 1980s because their pace of reform would be more gradual.
He said there was talk of extending the transition period beyond 2020 because of the scale of the task.
"I would suggest to New Zealand companies looking to that part of the world to keep a close eye on that."
He said trade agreements were more about opening minds than markets and provided important frameworks for companies to partner up and invest.
"In theory, if we can come up with a relatively quick agreement with the UK, which I'm confident if we can, that agreement could come into effect the day after the UK leaves Europe."
---