RI wants to resolve issues in RCEP negotiations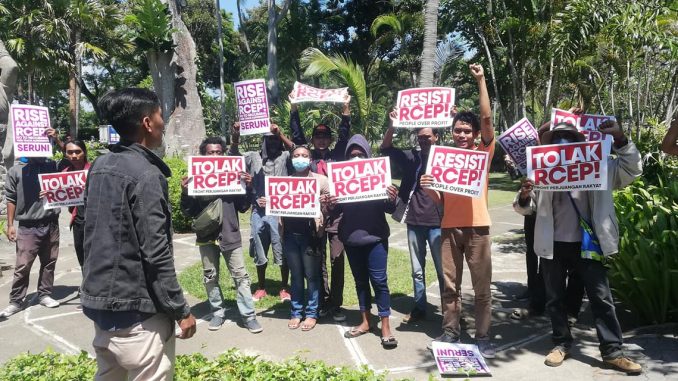 Jakarta Post | 18 December 2019
RI wants to resolve issues in RCEP negotiations
by Eisya A. Eloksari
The negotiating committee for the establishment of the Regional Comprehensive Economic Partnership (RCEP) wants the "Indian issues" to be resolved early next year, so that the free trade agreement could be signed as scheduled in November 2020, Indonesia's chief negotiator has said.
Iman Pambagyo, the director general of international trade negotiations at the Trade Ministry, said in Jakarta on Monday that, during the third RCEP Summit, held in Bangkok last month, the South Asian country's position in the regional agreement was still ambivalent.
In the joint leader statement, India said it would join the RCEP once outstanding issues were resolved. However, Imam said Prime Minister Narendra Modi stated later that India wanted "out", because he thought RCEP did not accommodate issues India deemed sensitive.
"We will try to resolve the Indian issues in the first quarter of next year, possibly by February," Iman said during a discussion on the RCEP road map.
He added that each RCEP member country would also try to resolve market access issues, especially between countries that had no prior free-trade agreement, as well as legal scrubbing until June 2020.
Iman said that, for the moment, 16 countries were still listed in the RCEP, as he hoped India would decide to join.
The RCEP was launched in November 2012 in Phnom Penh as an initiative by ASEAN to establish a common trade block comprising the 10 ASEAN nations along with Australia, China, India, Japan, South Korea and New Zealand.
There is growing concern among Indian businesspeople that the RCEP agreement could result in an influx of cheap goods from China and dairy products from Australia.
Meanwhile, former trade minister Mari Elka Pangestu said India's absence in the RCEP should not be considered a negative issue, as ASEAN had experienced a similar situation in the establishment of a free-trade agreement with Japan, which Thailand only joined two years later.
She said India could still decide to join the RCEP in the future, but it would have to accept all 20 chapters agreed by the remaining 15 countries.
"India is not ready to join, but we must remain optimistic that it will join," Mari said, adding that even without the South Asian country, the RCEP should not be thought of as a China-led agreement.
The vice chairperson of the Indonesian Chamber of Commerce and Industry (Kadin), Shinta Kamdani, told the press that, even if India ultimately withdrew from the RCEP, Indonesia should maintain its good relations with the country.
The two countries had agreed to more than double trade between them from US$21.11 billion in the current year to $50 billion by 2025, with trade ranging from crude palm oil to buffalo meat and rice.
"India is such a big market," Shinta said. "And as a business player, we also focus on what we can get from that market. So, if India still needs time for the RCEP, we can do trade bilaterally."
She went on to say that Indonesia should still consider India as an important market and enhance bilateral trade with it.
In 2018, Indonesia's exports to RCEP member countries amounted to $100 billion, or 61.42 percent of the country's total exports. Meanwhile, Indonesia imported goods totaling $113 billion from member countries, or 71.35 percent of total imports.
Furthermore, foreign direct investment (FDI) to RCEP member states amounted to $21 billion, or 71.66 percent of the total FDI.
As of Nov. 4, the member countries have agreed on 20 chapters in the RCEP, notably on market access for products and services as well as investment, according to data provided by Iman.
While 188 regulations (83.6 percent of all regulations) have been agreed, 29 regulations (12.9 percent) still need bilateral discussions to be resolved and eight regulations (3.6 percent) are considered difficult to pass.
The agreement would have been the largest regional trade pact, covering countries that together account for around 30 percent of global trade, 42 percent of global foreign direct investment and half of the world's population.
---