Rise up against TTIP : Day of action 11 October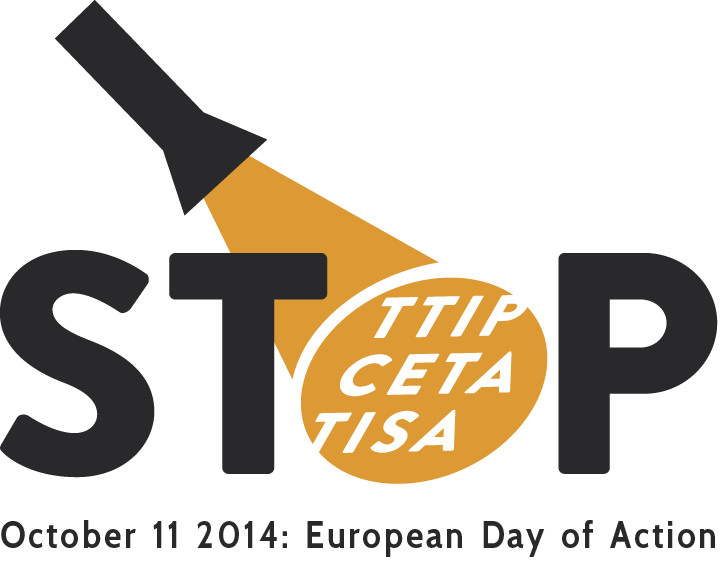 WDM | 30 September 2014
Rise up against TTIP : Day of action 11 October
By Morten Thaysen
Stop the corporate power grab
11 October 2014
Call to action :
TTIP is a so-called 'free trade' deal currently being negotiated by the EU and US. This deal will give big business more power over our society, our environment, our public services, and our democracy.
That's why we call on activists in the UK to join people from across Europe and the US to demonstrate their opposition to the TTIP on 11 October.
Shamefully, the UK government is a major supporter of this deal, which would tighten the grip of big business over our society. TTIP could :
– Grant corporations the power to sue governments ;
– Lock-in the privatisation of public services like the NHS and education ;
– Undermine workers' rights ;
– Undo regulations that protects the environment, giving harmful industries like fracking an easier ride ;
– Remove food safety regulation to allow new GM crops, hormone pumped beef and chlorine washed chicken
But together, we can defeat this agreement. Protests are gathering pace across the EU and US.
Politicians are increasingly on the back foot regarding TTIP. If we work together, we can defeat TTIP like we have defeated other dangerous trade deals in the past. Across the world, countries from South Africa to Ecuador are ripping up agreements like this one.
Make your voice heard on 11 October. #NoTTIP.
– London action
– Edinburgh action
– Find more UK actions on www.noTTIP.org.uk or contact activism@wdm.org.uk
– ACTIONS ACROSS EUROPE
The 11 October is also Global Frackdown – a global day of action against fracking. If passed TTIP could encourage fracking and other dangerous technologies in Europe. You can find more information about Global Frackdown and local actions taking place here : http://frackofflondon.wordpress.com/
---