S. Korea, China expected to initial free trade deal next week: official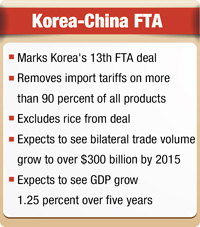 Arirang News 2015-02-21
S. Korea, China expected to initial free trade deal next week: official
South Korea and China are expected to take a big stride forward next week in terms of their long-planned free trade agreement.
A high-level trade ministry official in Seoul says the two sides have reached agreement on a number of previously unresolved technical issues during closed-door talks.
The official says that once the tentative accord is signed, the Korean government will announce the details of the FTA.
The pact, which is aimed at removing most of the trade barriers between the two countries, could take effect this year if the ratification process goes smoothly.
This is a massive deal for Korea as China is by far Korea's biggest trading partner. In 2014, Korean exports to China were worth more than 145 billion U.S. dollars.
Reporter : markbroome@arirang.co.kr
---