S. Korea, China ink MOU to tackle non-tariff barriers
All the versions of this article: [English] [français]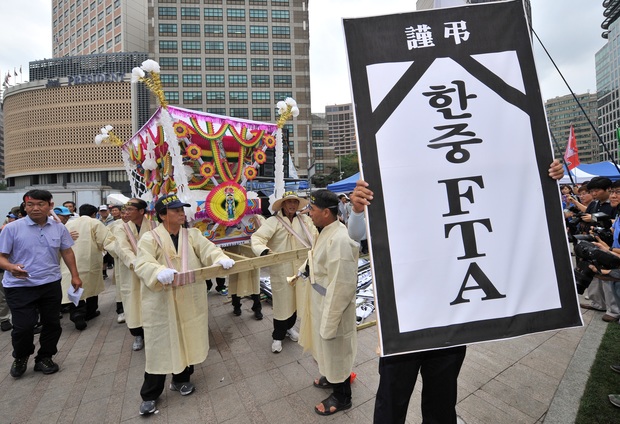 Yonhap | 3 September 2015
S. Korea, China ink MOU to tackle non-tariff barriers
South Korea and China have agreed to tackle the issue of non-tariff barriers following their signing of a free trade agreement (FTA) earlier this year, the government said Thursday.
The memorandum of understanding (MOU), signed in Beijing on Wednesday, aims to expand two-way cooperation so domestic regulations governing public health and technical standards do not become obstacles to flow of products and services, the Ministry of Trade, Industry and Energy said.
The technical barrier to trade (TBT) and sanitary and phytosanitary (SPS) MOU reached on the sidelines of President Park Geun-hye's visit to China calls for the creation of a ministerial level channel of communication, with both sides pledging to provide timely and accurate information on any changes to quarantine and customs rules.
The ministry said the TBT and SPS related regulations account for roughly half of all 26 instances of non-tariff barriers cited by a local committee keeping tabs on non-tariff barriers as hindering trade.
"The latest MOU comes at an opportune time with Seoul and Beijing having formally signed a free trade agreement (FTA) in June," the ministry said. "With the MOU in place, the bilateral FTA will become a much more effective means to fuel exchange of goods and services."
The government is currently pushing the National Assembly for the speedy ratification of the trade agreement as China is South Korea's No. 1 export market.
---