Selling off the farm: corporate meat's takeover through TTIP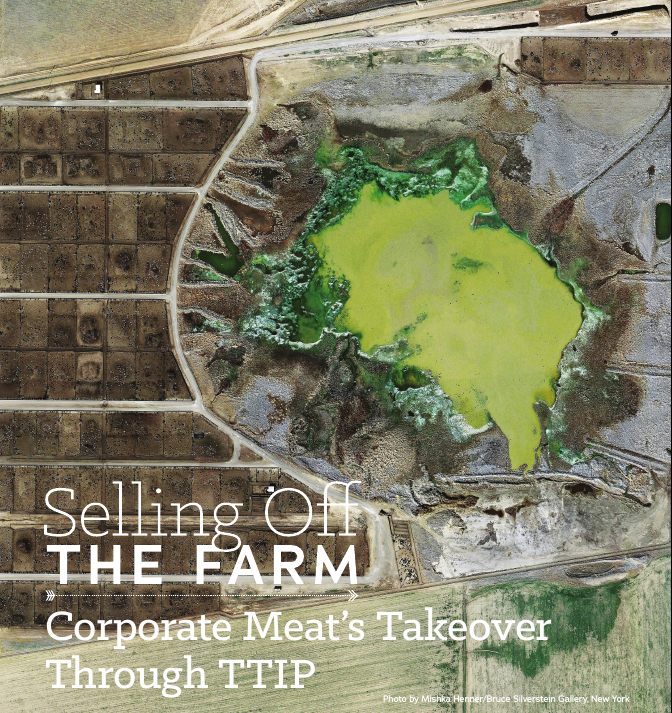 IATP | 11 Jul 2016
Selling Off the Farm: Corporate Meat's Takeover Through TTIP
By Sharon Anglin Treat and Shefali Sharma
Key findings
TTIP will accelerate corporate concentration and expand industrial meat production or "factory farming" by increasing the power of meat-producing transnational corporations. Liberalizing tariffs will make EU meat products even less competitive, increasing pressure in the EU to adopt even cheaper, industrialised practices that largely shift environmental and health costs onto the public. Furthermore, it will disincentivise new regulations that seek to discipline the industry's worse practices, particularly if these rules raise the cost of production.
At the same time, regulatory "harmonisation" measures embedded in TTIP will directly or indirectly pressure governments on both sides of the Atlantic to reduce regulatory costs and "non-tariff barriers" to trade. TTIP will weaken and lower existing standards, particularly when it comes to animal welfare, genetically modified food, food safety and public health.
Labour and environmental regulations related to the meat industry are inadequate on both sides of the Atlantic and need to be strengthened. Trade unions and environmental campaigns have achieved incremental gains; however, TTIP is likely to make it difficult to improve regulations on these issues in the future if they are seen as trade restrictive.
U.S. negotiators are unlikely to accept anything less than what was negotiated in the Trans-Pacific Partnership (TPP). That agreement makes zero tolerance on GMOs (including for animal feed) much more difficult, thereby undermining the EU's long-standing adherence to the precautionary principle.
Many new agricultural and food technologies are being developed or already utilized with limited or no regulation. TTIP will make rulemaking in the public interest much more difficult in the future for technologies such as gene editing and cloning.
The chilling effect of TTIP's (de)regulatory cooperation provisions will make it increasingly challenging in the future to effectively regulate impacts of the meat industry on climate change and other as yet unforeseen issues.
Investor State Dispute Settlement (ISDS) provisions in TTIP are likely to thwart efforts to effectively regulate the global meat industry's growing power and will exponentially expand the number of corporations empowered to use these provisions. With ISDS, transnational meat corporations such as JBS and Smithfield—present and expanding on both sides of the Atlantic—could be newly empowered to challenge regulations that hurt their bottom line, even if they are nominally headquartered in other countries such as Brazil and China.
---