Small B.C. First Nation challenging Canada-China free trade agreement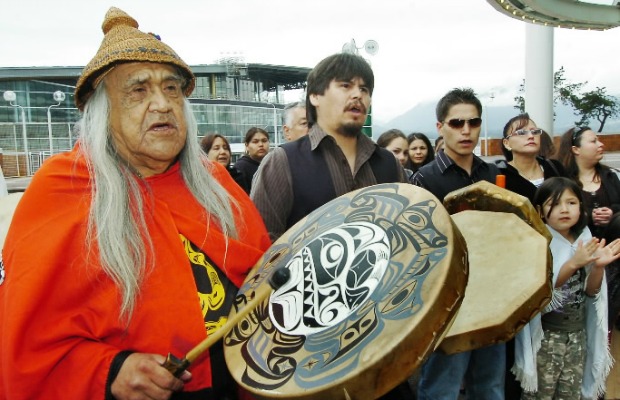 June 5, 2013
Small B.C. First Nation challenging Canada-China free trade agreement
By Dene Moore
Members of a small British Columbia aboriginal band are in a federal court room in Vancouver this week, as their 300-member community tries to stop the federal government from passing a free trade deal with China.
The Hupacasath First Nation has launched a court challenge to the Canada-China Foreign Investment Promotion and Protection Agreement, arguing that it infringes on aboriginal rights.
"It's something all Canadians should be paying attention to," said Brenda Sayers, the organizer of the band's campaign against the deal. "We're looking at this as not being just a First Nations concern, but for all people of Canada."
Critics of the Canada-China agreement fear the deal will give foreign corporations leverage over Canadian regulatory and resource decisions, allowing Chinese corporations to seek arbitration or even sue Canada for decisions that negatively affect their access to Canadian resources.
The Hupacasath are arguing in court that the federal government has failed to consult with First Nations on the deal that affects their rights and title.
Even provinces could lose their decision-making ability on resource development, Sayers said.
The band has the support of groups such as the Chiefs of Ontario, the Union of B.C. Indian Chiefs, the Council of Canadians, the Canadian Auto Workers and ForestEthics.
The Hucapasath have crowd-sourced more than $160,000 to pay the legal bill, with donations from 3,000 people to an online campaign organized by the non-profit activist group LeadNow.
About 150 people gathered at a rally Wednesday outside the federal court, which has set aside three days for a hearing.
Critics of the deal cited a lawsuit launched under the auspices of the North American Free Trade Agreement over the Quebec government's moratorium on hydraulic fracking for shale gas.
Calgary-based Lone Pine Resources Inc., has opened an office in Delaware and launched the lawsuit seeking $250 million from the federal government because its exploration permits were cancelled "without due process, without compensation."
"This is what investment protection looks like. It's basically a bail-out for corporations when communities decide to say no," Harjap Grewal, of the Council of Canadians, said at the noon-hour rally.
"This court challenge by the Hucapasath is going to lead the way in showing how fundamentally flawed all of these agreements are."
Sayers said she is particularly concerned about Chinese companies involved in oil pipelines, as B.C. grapples with proposals that would see the Pacific coast become an oil exporting hub.
The Conservative government is pursuing a host of international trade agreements, including deals with Japan, India and a Trans-Pacific deal that would include Australia, Brunei, Canada, Chile, Malaysia, Mexico, New Zealand, Peru, Singapore, the United States and Vietnam.
Expansion of Canadian exports in the Asia-Pacific is a key plank of the federal economic action plan, and the federal government has said the Foreign Investment and Promotion and Protection agreement will give Canadians greater access to Chinese markets.
---