Taiwan, Singapore to open formal talks on trade deal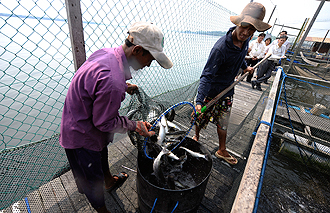 Focus Taiwan | 2010/12/15
Taiwan, Singapore to open formal talks on trade deal
By Chris Wang
Taipei, Dec. 15 (CNA) — Taiwan and Singapore will begin formal negotiations on a free trade agreement early next year after completing feasibility studies, representatives of both governments announced in a joint press release Wednesday.
If a deal were reached, it would be titled "Agreement between Singapore and the Separate Customs Territory of Taiwan, Penghu, Kinmen and Matsu on Economic Partnership, " or ASTEP, the Taipei Representative Office in Singapore and the Singapore Trade Office in Taipei said in the statement.
"Separate Customs Territory of Taiwan, Penghu, Kinmen and Matsu" is Taiwan's official name at the World Trade Organization, of which Singapore is also a member.
The decision to launch formal negotiations came after both sides completed feasibility studies and concluded that an economic cooperation agreement would offer significant mutual benefits, the statement said.
Delegations from both sides met for the first time in Singapore from Dec. 9-10, according to the statement, but it did not specify when formal talks would begin.
The statement left open the possibility that priority areas could be accorded expedited treatment in the negotiations.
The much-anticipated deal is seen as a stepping stone for Taiwan to seek more free trade agreements (FTAs) with major trading partners after signing an Economic Cooperation Framework Agreement (ECFA) with China in June to liberalize bilateral trade.
Prior to signing the ECFA, which so far has provided for tariff reductions or exemptions on only a limited basket of goods, Taiwan had only concluded four FTAs with five of its diplomatic allies in Latin America that accounted for less than 0.2 percent of Taiwan's total external trade.
A trade deal with Singapore would be significant because it is Taiwan's fifth largest export market and one of its top 10 trading partners, with bilateral trade reaching US$13.4 billion in 2009.
Singapore became the first country to express interest in signing an FTA with Taiwan following the signing of the ECFA. The two countries first issued a joint press release on Aug. 5 saying they were exploring the feasibility of signing an economic cooperation agreement.
Taiwan has had trouble signing free trade deals with non-allied countries in the past because of China's obstruction. But the government has argued that after the signing of the ECFA, other countries would be more open to negotiating trade pacts with Taiwan.
---