Tarsands complaint goes before NAFTA watchdog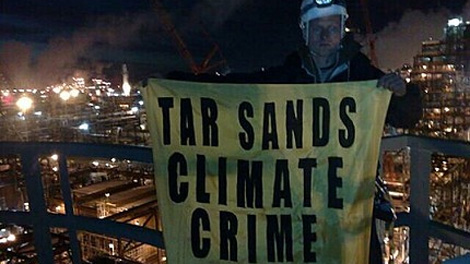 The Canadian Press | 14 April 2010
Tarsands complaint goes before NAFTA watchdog
An environment group is claiming the federal government is breaking its own laws when it comes to the tar sands, and plans to take its concerns to NAFTA.
Watch the CTV News Video with Matt Price, Environmental Defence
OTTAWA — Green groups are taking their complaints about the Alberta tarsands to an environmental watchdog set up under the North American Free Trade Agreement.
Environmental Defence Canada is spearheading the move to enlist NAFTA in the fight against the tarsands.
The group says it has filed a formal submission with the NAFTA Commission for Environmental Co-operation.
It complains that the federal government isn't enforcing its own pollution rules against tarsands projects.
Matt Price of Environmental Defence says the trade body could take the failure to enforce the rules as a kind of subsidy for the tarsands, a no-no under the trade pact.
At the very least, he says, the submission could shame the government into action.
Price says tailings ponds, which hold tainted waste water from the tarsands plants, leak billions of litres into streams and rivers every year.
The federal Fisheries Act prohibits pollution of fish-inhabited waters.
Price says the government has to be prodded to action.
"It's failing to do anything, really, to clean up the tarsands," he says.
It could take months for the commission to decide whether to hear the complaint and a final decision could take years.
---