Thousands denounce South Korea-US free trade plans as negotiations intensify
The Associated Press | March 25, 2007
Thousands denounce South Korea-U.S. free trade plans as negotiations intensify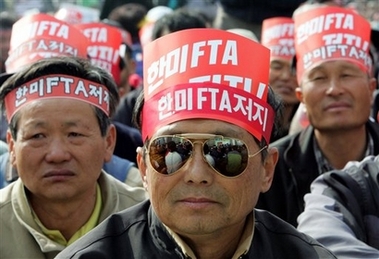 SEOUL, South Korea: Thousands of South Koreans took to the streets Sunday to denounce a proposed free trade agreement between their country and the United States just days ahead of a deadline for negotiators to strike a deal.
South Korean and U.S. officials have until the end of this week to reach an agreement. Planned high-level negotiations in Seoul from Monday are aimed at closing gaps in automobiles, agriculture and other contentious issues that have defied resolution over almost 10 months of talks.
Protesters from labor, farm and student groups carrying flags and banners, some snaking through narrow streets and occasionally scuffling with riot police, gathered by late afternoon in front of the heavily guarded U.S. Embassy, blocking traffic on Seoul's main downtown street.
The protesters, also within sight of the building housing South Korea's Ministry of Foreign Affairs and Trade, listened to speeches and chanted slogans before dispersing peacefully after dark.
The National Police Agency estimated that about 7,000 people took to the streets of Seoul. A total of 15,000 riot police were deployed, YTN television reported.
Demonstrators had gathered earlier in front of Seoul City Hall for a protest sponsored by the opposition Democratic Labor Party.
"Stop the South Korea-U.S. FTA," the crowd chanted, later setting fire to a paper cow representing U.S. beef.
South Korea and the United States have been trying since June to strike a deal which officials say would boost economic ties between two countries that already do more than US$75 billion (€56 billion) in trade.
Protests in South Korea have dogged the negotiations since they began. Opponents fear an influx of cheaper U.S. goods will harm livelihoods and cost jobs.
"I think (the) the FTA will make it easier to fire workers," said Kim Yu-ri, a sociology major at elite Seoul National University, who was protesting Sunday.
The two governments need to wrap up an agreement by March 31 because of the approaching end of U.S. President George W. Bush's Trade Promotion Authority, which allows him to send trade agreements to Congress for straight yes-or-no votes without amendments.
Even if a deal is struck this week, votes to ratify it are not expected for months. South Korean lawmakers would also need to approve any final deal.
South Korea, the world's 10th-biggest economy, is the seventh-largest trading partner of the United States.
If successful, it would be the biggest such accord for Washington since the North American Free Trade Agreement in 1993.
The tight time schedule has forced South Korea and the U.S. to turn the talks over to higher ranking officials after chief trade negotiators in charge of the negotiations failed to reach an agreement.
In this week's talks, Washington will be led by Deputy U.S. Trade Representative Karan Bhatia, while South Korean media have reported that Trade Minister Kim Hyun-chong will represent Seoul.
Among the issues dividing the two sides is South Korea's rice market, which Seoul has vowed to exclude from any final free trade deal, and U.S. beef imports, absent from South Korea for more than three years after mad cow disease was discovered in the United States in 2003.
Associated Press Writer Bo-Mi Lim in Seoul contributed to this report.
---