Top Japanese official has no interest in trade deal with just the US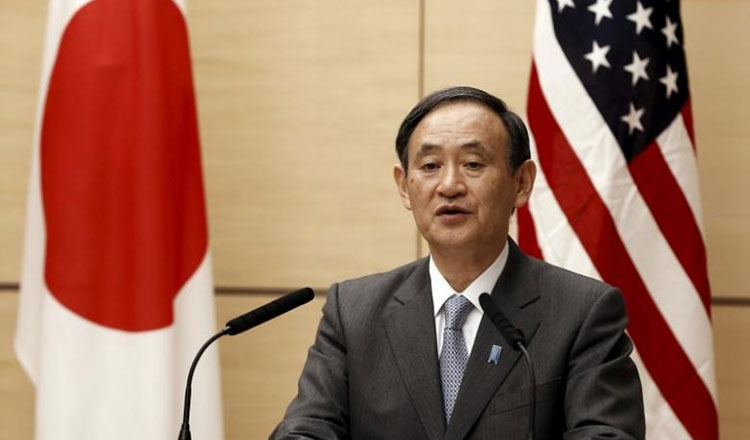 Bloomberg | 22 July 2018
Top Japanese official has no interest in trade deal with just the US
By Connor Cislo and Emi Nobuhiro
One of Japan's top policy makers indicated the government will continue to resist U.S. efforts to create a bilateral free trade agreement between the two nations.
"Japan is not going to do anything with any country that harms the national interest," said Chief Cabinet Secretary Yoshihide Suga. "With FTA negotiations too, we'll handle them in that way."
During a wide-ranging interview in Tokyo on Saturday, Suga also said he expects Prime Minister Shinzo Abe to stand for re-election in September as leader of the ruling Liberal Democratic Party. If he wins that contest, which appears likely, Abe could remain PM until 2021, making him the nation's longest serving post-war premier.
Suga's comments came as officials from the Group of 20 countries meeting in Argentina pushed back against the Trump administration, which has shunned multilateral agreements and embraced tariffs.
At the G-20, Finance Minister Taro Aso pressed U.S. Treasury Secretary Steven Mnuchin to alleviate Japan's concerns over trade, discussing U.S. tariffs on steel and aluminum, as well as possible levies on car and auto part imports.
Economy Minister Toshimitsu Motegi and U.S. Trade Representative Robert Lighthizer are expected to sit down for bilateral trade discussions later this month.
Suga said he knows the U.S. side is keenly interested in a bilateral trade deal, but Japan will continue to insist that the U.S. returning to the Trans-Pacific Partnership trade agreement is in the best interests of both countries. President Donald Trump pulled the U.S. out of the agreement during his first week in office.
Sales Tax
Back at home, Japan needs to ensure that the economy doesn't slump with an increase in the sales tax planned for October 2019. Government advisers have suggested tax relief for home and car purchases, as well as measures to raise Japan's potential growth rate.
Suga declined to give a specific number regarding the size of fiscal stimulus that would accompany the tax hike, but emphasized that it should be large enough to ensure the change happens smoothly. The economy went into recession the last time the levy was increased in 2014.
Asked if there should be a change in the 2 percent inflation target being pursued by the Bank of Japan, Suga said he had total confidence in Governor Haruhiko Kuroda.
He added that Japan was no longer in deflation and indicated that the government may issue an official statement declaring the economy to be free of deflation before the sales tax hike. "It doesn't necessarily have to come before that," he said. "But it's true that it's very much heading in that direction."
North Korea
For Suga, resolution of the issues of North Korean abductions of Japanese citizens, nuclear weapons and ballistic missiles remain central to any normalization of diplomatic relations with North Korea.
Trump's meeting in June with Kim Jong Un in Singapore has raised the chances for a significant breakthrough on North Korean issues, he said.
"Prime Minister Abe will make use of any chance, no matter how small, to deal with this. We're tackling this with all of our diplomatic ability."
---