TPP declaration fuels other talks / European nations grow more eager to reach trade deals with Japan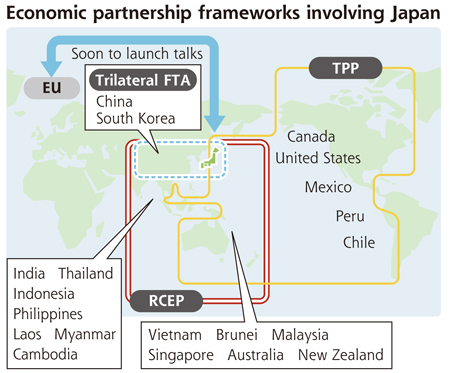 Daily Yomiuri | Mar. 27, 2013
TPP declaration fuels other talks / European nations grow more eager to reach trade deals with Japan
Yuki Sato / Yomiuri Shimbun Staff Writer
Prime Minister Shinzo Abe's recent announcement that Japan aims to join the Trans-Pacific Partnership free trade negotiations has sparked life into other trade talks Japan has aimed to start, with those for an economic partnership agreement with the European Union the latest example.
Abe and top EU leaders—European Council President Herman Van Rompuy and European Commission President Jose Manuel Barroso—held a telephone conference Monday, during which the two sides agreed to launch talks as early as April with the aim of concluding an EPA.
The EU had been reluctant to conclude an EPA with Japan as it would result in an increase in imports of Japanese cars and other products.
However, "Japan's announcement that it will join the TPP negotiations has made the EU and other Asian countries more interested in having talks with Japan," a senior Economy, Trade and Industry Ministry official said.
If the TPP is concluded at an early date and tariff rates are lowered for pork, butter and other agricultural products, some EU countries would find themselves at a disadvantage against Australia and other agricultural countries. Denmark and the Netherlands could be particularly affected as they are major exporters of pork and dairy products, respectively.
Meanwhile, Japan started negotiations Tuesday in Seoul on a trilateral free trade agreement with China and South Korea. It will also launch talks on the Regional Comprehensive Economic Partnership in May with 15 other countries—the 10 members of the Association of Southeast Asian Nations plus Australia, China, India, New Zealand and South Korea.
China has been concerned that its companies would find it more difficult to do business in the Asia-Pacific region if participants in the TPP negotiations reach agreements on certain trade rules—particularly those concerning protection of intellectual property.
In this regard, Japan's announcement that it will join the TPP talks has also accelerated trade talks with other Asian countries.
Japan's participation in the TPP pact would boost the nation's gross domestic product by 0.66 percent, while joining the RCEP framework would add 0.27 percent to its GDP growth, according to estimates.
Stronger ties with other Asian countries through the RCEP and other trade frameworks would provide further momentum to the Abe administration's economic growth strategy.
Eliminating trade disadvantages
Under an EPA with the EU, it is expected that tariff rates will be lowered for products that the region imports from Japan.
Currently, the EU imposes a tariff rate of 10 percent on Japanese vehicles and 14 percent on flat-screen TVs.
Meanwhile, the EU has concluded an FTA with South Korea, which came into effect in 2011. The tariff rate for small cars from that country has been lowered to 6.6 percent and will be eliminated in four years.
South Korean automakers recorded considerable rises in 2012 in the number of new car registrations for their products in the EU, with Hyundai Motor Co. and affiliate Kia Motors increasing 9.4 percent and 14.1 percent, respectively, compared to the previous year.
In contrast, Toyota Motor Corp. saw a 3.1 percent decrease, while Nissan Motor Co. faced a 6.3 percent drop.
The Japanese auto industry has been displeased about "unfair competitive conditions" in the EU, as described by an executive at the Japan Automobile Manufacturers Association, and therefore hopes tariff rates for Japanese vehicles will be lowered in the region.
Automobiles have been one of the central issues in talks with the United States ahead of Japan's participation in TPP negotiations. The U.S. side hopes to postpone lowering its tariff rates of 2.5 percent for passenger vehicles and 25 percent for trucks.
"Japan now can become more aggressive toward the United States" in discussing the issue, a senior government official remarked, as the EU has included automobiles among issues in EPA negotiations with Japan.
Nontariff barriers another focus
Apart from automobiles, another major issue in the EPA talks with the EU is regulations that also work as trade barriers other than tariffs.
France—home to Alstom SA, the maker of TGV high-speed trains—has expressed particular concern about Japan's railway system specifications and standards on public works projects, which differ considerably from those of France.
Japan, whose Shinkansen bullet trains compete with TGV trains on the international market, responded by saying railway system standards are an issue the private sector should work on, including the now privatized Japan Railway group.
Japan and the EU are expected to go through difficult negotiations before concluding an EPA, as some European hard-liners insist the EU should terminate talks after one year if Japan makes no concession on removing nontariff barriers.
---